Size: 76,679 Acres
Year Established: 1971
Annual Visitors: 1.81 Million
Firearms Information in Arches National Park
Anyone who is eligible to possess a handgun under federal, state, and local law may do so in this park as of February 22, 2010.
Firearms are likewise prohibited in government buildings under federal law. It is viewed as your responsibility to familiarize yourself with and abide by all local, state, and federal firearms regulations before visiting this park. The Utah Weapons Code is available to guests online, you can find it here for additional information.
If you would like to learn more about the Gun Laws in Utah, you can click here.
Hunting in Arches National Park
In Arches National Park, it is against the law to use/discharge any kind of firearm.
To learn more about Hunting Laws in Utah, you can click here.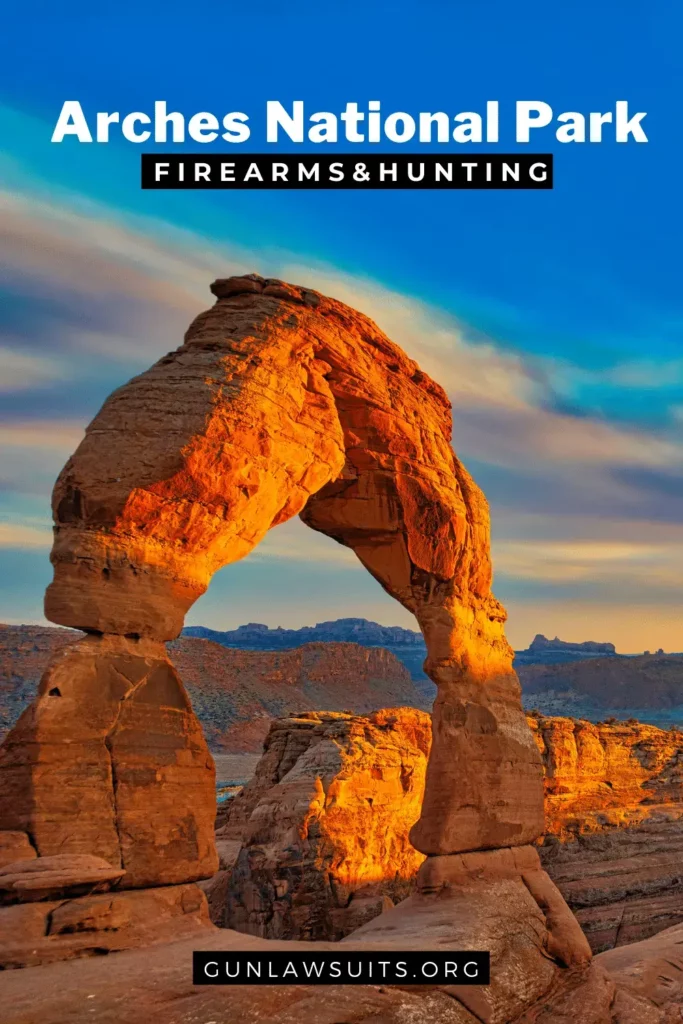 Additional Information About Arches National Park
More than 2,000 natural arches, crafted from Entrada sandstone in shades of red, brown, and orange, may be found in this park along the Colorado River. In terms of the number of arches, this is by far the greatest collection in the planet. The soft red sandstone from an ancient inland sea was worn and molded by wind and rain into these incredible pinnacles and formations.
The slender, tapering span of Landscape Arch is 306. The most popular arch for tourists to photograph is, without a doubt, Delicate Arch. Arches is home to a wide variety of wildlife, including golden eagles, jackrabbits, and numerous reptile species.
Numerous stars illuminate the dark sky. In 2019, the area was designated as a Dark Sky Park, one of seven in the National Park System, by the International Dark-Sky Association.
Best Time to Visit Arches National Park
The best time to visit Arches National Park is between the months of March to May and September to November.
Visitor Fees
$15.00 per person/cyclist valid for up to 7 days
$30.00 per vehicle valid for up to 7 days
$25.00 per motorcycle valid for up to 7 days
$55.00 for the Southeast Utah Annual Parks Pass
This pass gets you access to Arches and Canyonlands national parks, and Natural Bridges National Monument.
---
Interesting in visiting multiple National Parks this year?
Consider the America The Beautiful Annual Park Pass.
This annual park pass to gets you and some friends into all U.S. National Parks for $80.
They also offer Senior, Military, and other discounts.
---
Visitor Centers
Arches Visitor Center
Address
5 miles north of Moab, Utah, on US 191
Moab, UT 84532
Phone Number
(435) 719-2299
Hours of Operation
Daily 7:30 AM–6:00 PM
Be sure to check for seasonal closures.