Year Established: 1980
Annual Visitors: 706,000
Size: 172,971 Acres
Firearms Information in Biscayne National Park
Federal law allows those who are permitted to carry weapons under federal, state, and municipal law to do so in Biscayne National Park. Make sure you have a Florida Concealed Carry Permit or a CCW from a reciprocal state before you go.
Before visiting this park, it is your responsibility for understanding and abiding by all applicable state, local, and federal firearms regulations.
These can change so it is best to check Florida's concealed carry page for further information. One important note to highlight is you cannot be in possession of guns in park facilities indicated with signs at all public entrances.
Fishing in Biscayne National Park
To fish in the park, you must have a valid Florida fishing license. Children under the age of 16 do not need a driver's license though.
Visitors fishing within Biscayne National Park are required to get a fishing license in compliance with FWC statutes and regulations, you can learn more about purchasing one by visiting the FWC website.
Please be aware that additional permits/tags are required if you engage in shore-based shark fishing, reef-fishing from a private vessel, or expressly target snook, spiny lobster, or tarpon.
Visit the Florida Fish and Wildlife Conservation Commission website for rules about fishing in Biscayne National Park that are set by the state. Keep in mind that the size limits and bag limits for many species are stricter inside the park than they are outside.
During the legal season, lobsters can be caught east of the islands, except in the Legare Anchorage (where swimming, snorkeling, and diving are not allowed all year) and the Coral Reed Protection Areas (see map). Lobsters that were caught legally can be taken through the sanctuary as long as no one from the boat goes overboard (into the water) while the boat is in the sanctuary.
You can also check out their lobstering page for more information about how to catch lobsters and what the rules are.
Additional Information About Biscayne National Park
As the National Park Service's largest marine sanctuary, it is home to dozens of threatened or endangered species, including manatees, crocodiles, and sea turtles. It consists of several islands and is bordered by mangrove woods. The Florida Reef is the only live coral barrier reef in the United States and one of the largest reefs in the world.
This oceanic paradise is best observed by boat, which makes perfect sense. The Dante Fascell Visitor Center serves as your point of departure on land. It is less than an hour's journey from Downtown Miami to Convoy Point in Homestead. Plan your journey by speaking with park rangers and viewing audio-visual presentations about Biscayne National Park's diverse habitats. It will be difficult to choose the next adventure after that.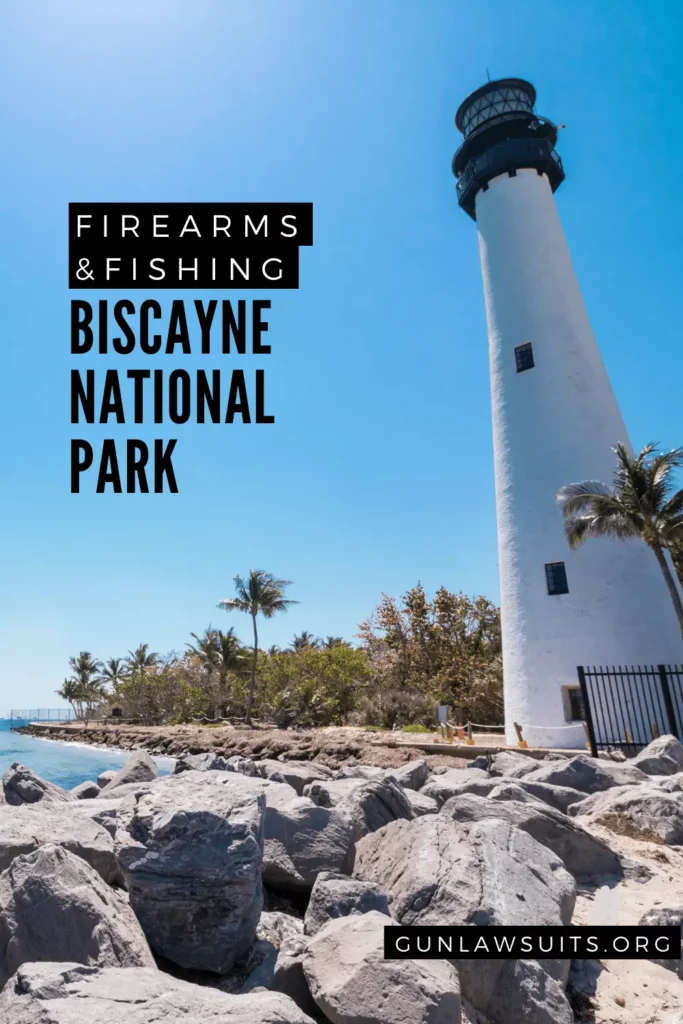 Best Time to Visit Biscayne National Park
The best time to visit Biscayne National Park is between the months of December to February.
Visitor Fees
This park has no entrance fees.
Visitor Centers
Dante Fascell Visitor Center
Address
9700 SW 328th St,
Homestead, FL 33033
Phone Number
(305) 230-1144
Hours of Operation
Daily 9:00 AM–5:00 PM
Be sure to check for seasonal closures.
---
Interesting in visiting multiple National Parks this year?
Consider the America The Beautiful Annual Park Pass.
This annual park pass to gets you and some friends into all U.S. National Parks for $80.
They also offer Senior, Military, and other discounts.
---