Size: 1.4 Million Acres
Year Established: 1947
Annual Visitors: 942,000
Firearms Information in Everglades National Park
As of February 22, 2010, a federal legislation allows those who are legally permitted to possess firearms under federal, state, and municipal regulations to possess firearms in Everglades National Park.
Before entering Everglades National Park, you must understand and comply with all applicable federal, state, and local firearms regulations. You can find more information on Florida Gun Laws here.
Fishing in Everglades National Park
One-third of Everglades National Park is saltwater, and the other two-thirds is freshwater. Both have a lot of fishing opportunities to enjoy.
In Florida, you need a freshwater fishing license to fish in fresh water or keep fresh water fish. You also need a saltwater fishing license to fish in saltwater or to keep fish from saltwater fishing.
Licensed anglers can only have 20 fish on them at one time, and they can't have more than 10 of any one species. There is no limit on how many non-native species you can have.

Fishing Restrictions
You can't fish in Eco, Mrazek, or Coot Bay Ponds. During daylight hours, you can't fish at the Flamingo Marina.
The Ernest F. Coe (Main) Visitor Center lakes, the Royal Palm Visitor Center area and trails, Chekika Lake, the first 3 miles of the Main Park Road, including Taylor Slough, and the Shark Valley Tram Road are all off-limits for fishing.
It is against the law to catch or own a lobster or a queen conch.
Stone crabs and blue crabs can be caught by recreational fishermen with the right gear when the state season is open (for example: star trap, baited line, landing net, etc.). The most traps a crabber can have is five (5).
It is against the law to leave gear, like traps, alone.
Shrimp can be caught with a cast net or a dip net that isn't wider than 3 feet (0.9 m), but only for personal use; they can't be sold.
All anglers should pick up the latest copy of the Everglades Fishing Regulations, which are available at all visitor centers and entrance stations.
Hunting in Everglades National Park
Hunting is essentially prohibited in Everglades National Park, except when it comes to hunting pythons.
Studies show that pythons have killed off most of the mammals in the Everglades. Some species, like marsh rabbits and foxes, are now extinct. They also hunt amphibians, reptiles, and wading birds, like the wood stork, which is a loved and endangered species.
Since one was first seen in the 1970s, they have become a problem in the Everglades. They are aggressive, have a lot of babies, and eat anything they can find.
No one knows how many of these big snakes are now living in south Florida, but Kevin Donmoyer, an invasive species biologist at Everglades National Park, said estimates range from 100,000 to more than a million.
Since 2017, when the hunting program began, about 9,000 snakes have been killed by paid contractors and other people.
You can't just go out and start hunting python though, check out the python program here for more information.
You can learn more about Florida's Hunting Laws here.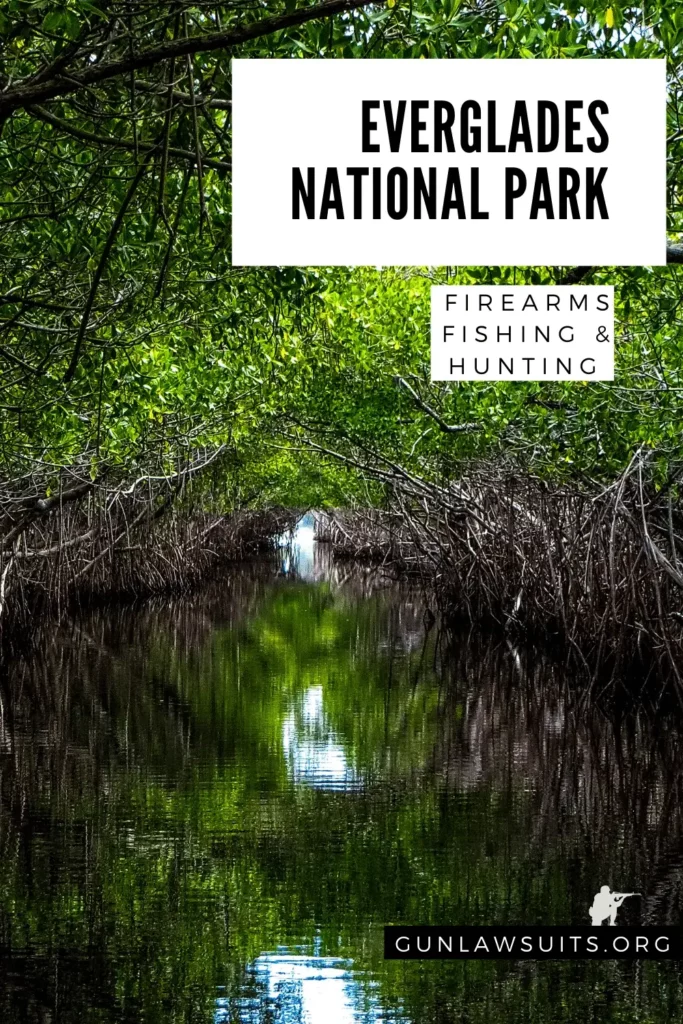 Additional Information About Everglades National Park
For the saw grass that flourished in the slow-moving water from Lake Okeechobee to the Gulf of Mexico, the Seminole Indians had a name for this region: River of Grass.
The West Indian manatee and the terrifying Florida alligator both call this region home. There are about 300 different kinds of fish there, including the prehistoric-looking Gulf toadfish. In addition to the swamps, there are dense pine forests, tangled mangroves, and hardwood hammocks.
Besides being a haven for species like the pink-faced white ibis and the roseate spoonbill, the park is covered in beautiful orchids of every color and kind. Tourists go to the southern regions of Florida for fan-driven airboat rides, as well as motorboating, kayaking, and fishing.
However, the Everglades have long been under danger from surrounding development and pollution. Government agencies have joined together to eradicate pests like the Burmese python and restore the park's environment.
Best Time to Visit Everglades National Park
The best time to visit Everglades National Park is between the months of December to February.
Visitor Fees
$15.00 per person/cyclist for up to 7 days
$30.00 per vehicle for up to 7 days
$15.00 per motorcycle for up to 7 days
$55.00 for Everglades National Park Annual Pass
---
Interesting in visiting multiple National Parks this year?
Consider the America The Beautiful Annual Park Pass.
This annual park pass to gets you and some friends into all U.S. National Parks for $80.
They also offer Senior, Military, and other discounts.
---
Visitor Centers
Flamingo Visitor Center
Address
1 Flamingo Lodge Hwy
Homestead, Florida 33034
Phone Number
(239) 695-2945
Hours of Operation
Daily 8:00 AM–5:00 PM
Be sure to check for seasonal closures.
---
Ernest Coe Visitor Center
Address
40001 State Road 9336
Homestead, FL 33034
Phone Number
305-242-7700
Hours of Operation
Daily 9:00 AM–5:00 PM
Be sure to check for seasonal closures.
---
Shark Valley Visitor Center
Address
36000 SW 8th Street
Miami, Florida 33194
Phone Number
(305) 221-8776
Hours of Operation
Daily 9:00 AM–5:00 PM
Be sure to check for seasonal closures.
---
Address
815 Oyster Bar Lane
Everglades City, Florida 34139
Phone Number
(239) 695-3311
Hours of Operation
Daily 8:00 AM–5:00 PM
Be sure to check for seasonal closures.
---