Size: 53,012 Acres
Year Established: 1941
Annual Visitors: 516,000
Firearms Information in Mammoth Cave National Park
Visitors to Mammoth Cave National Park who are can own firearms under federal, state, and local law are free to bring firearms into the park with them. The discharge of firearms or hunting inside Mammoth Cave is strictly forbidden though.
Before entering the park, it is your obligation to familiarize yourself with and abide by any local, state, and federal firearms regulations. You can learn more about the Kentucky Gun Laws here.
There are notices posted at all public entrances to buildings within the park where weapons are prohibited due to federal legislation. These buildings include visitor centers and government offices.
Hunting in Mammoth Cave National Park
There is no hunting in Mammoth Cave National Park.
Click the link to learn about Hunting Laws in Kentucky.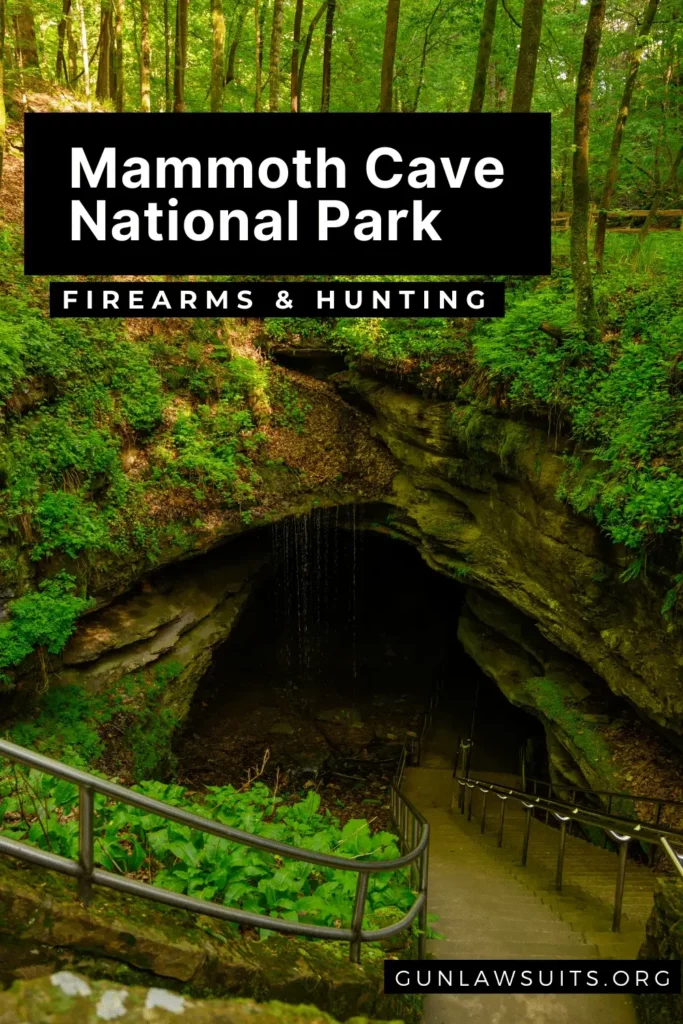 Additional Information About Mammoth Cave National Park
You wouldn't know water has been excavating 405 miles of meandering tunnels for the last 10 million years if you went hiking through the area's farms, woodlands, and rivers. The greatest cave network on the planet is home to underground rivers and streams. The Green River, the longest at 16 miles, is a winding river.
Stalactites dangle from the ceilings like vanilla icicles, and stalagmites soar skyward from the floor in the many dark, confined rooms that make up this vast subterranean world. All of these formed over time from a steady flow of calcite-rich water dripping down from above.
Fifteen different species of bats and other nocturnal creatures call the park home (though the bat population has dwindled). There are guided excursions available for spelunkers who want to navigate the more challenging areas.
Best Time to Visit Mammoth Cave National Park
The best time to visit Mammoth Cave National Park is between the months of March to April and October to November.
Visitor Fees
Mammoth Cave National Park's surface attractions can be viewed without paying an entrance charge. There is a cost for the cave trip, camping, and reserving picnic areas. The cost of visiting the cave vary.
---
Interesting in visiting multiple National Parks this year?
Consider the America The Beautiful Annual Park Pass.
This annual park pass to gets you and some friends into all U.S. National Parks for $80.
They also offer Senior, Military, and other discounts.
---
Visitor Centers
Mammoth Cave Visitor Center
Address
1 Mammoth Cave Parkway
Mammoth Cave, KY 42259-0007
Phone Number
Hours of Operation
Daily 8:00 AM–6:00 PM