Size: 236,380 Acres
Year Established: 1899
Annual Visitors: 1.67 Million
Best Time to Visit Mount Rainier National Park
The best time to visit Mount Rainier National Park is between the months of July to September.
Firearms Information in Mount Rainier National Park
Since February 22, 2010, people who can legally own guns under federal, state, and local laws can do so in this park, thanks to a federal law. Before entering this park, it is your responsibility to know and follow all state, local, and federal gun laws.
You can stay up to date with changed at the Washington State website.
There are also places in this park where guns are not allowed by federal law. These places are marked with signs at all public entrances.
If you would like to learn more about the Gun Laws in Washington, you can click here.
Hunting in Mount Rainier National Park
The federal law doesn't change the rules about using guns in national parks or hunting that are already in place. Guns can't be used for hunting or anything else in Mount Rainier National Park.
To learn more about Hunting Laws in Washington, you can click here.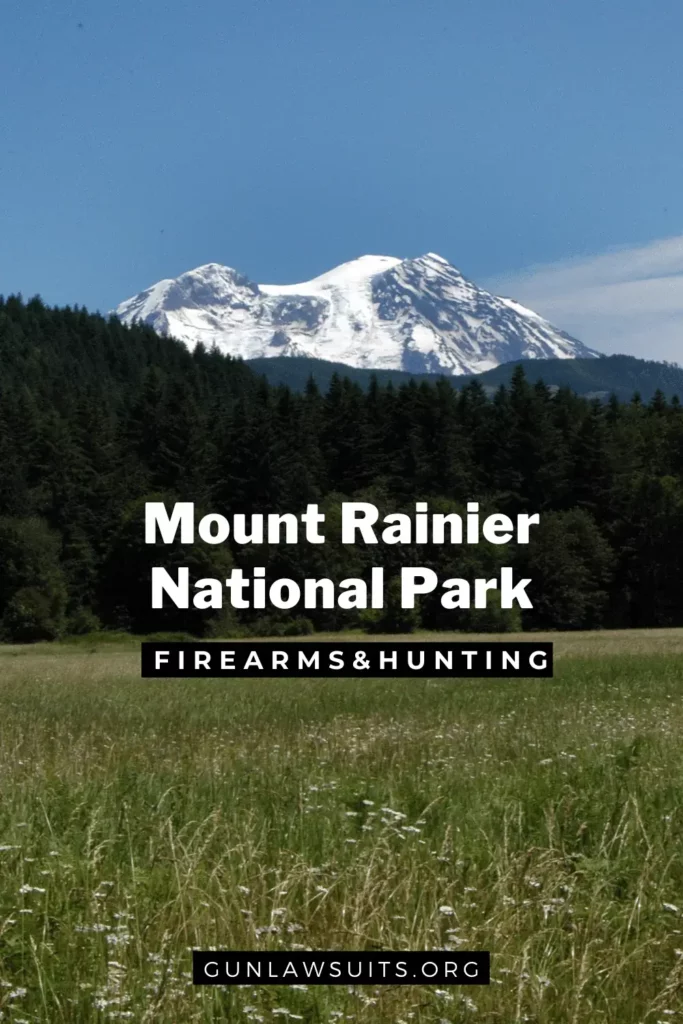 Additional Information About Mount Rainier National Park
Mount Rainier is a supervolcano that is surrounded by glaciers. It can be seen from Seattle and Tacoma, and it is on the Ring of Fire. Three-quarters of the 450 volcanoes on Earth are along the ring, which is a path along the Pacific Ocean where volcanoes and earthquakes are common.
Mount Rainier hasn't exploded in more than 200 years, which is a good thing…
At 14,410 feet tall, its icy slopes seem to call climbers like a clarion call. Every year, about 10,000 of them answer its call and try to climb to the top.
In the early 1960s, Jim Whittaker trained here to climb Mount Everest for the first time by an American.
Hikers also come to the park in large numbers to see the wildflower meadows that cover the lower slopes. These meadows are filled with blue-purple alpine asters, red harsh paintbrush, white avalanche lilies, and yellow buttercups. Those who want to explore the park's old forests can get lost in dense Douglas fir, mountain hemlock, and western red cedar forests.
Visitor Fees
$15.00 per person/cyclist valid for up to 7 days
$30.00 per vehicle valid for up to 7 days
$25.00 per motorcycle valid for up to 7 days
$55.00 for Mount Rainier Annual Pass
---
Interesting in visiting multiple National Parks this year?
Consider the America The Beautiful Annual Park Pass.
This annual park pass to gets you and some friends into all U.S. National Parks for $80.
They also offer Senior, Military, and other discounts.
---
Visitor Centers
Longmire Museum
Address
Longmire Museum,
Ashford, WA 98304
Phone Number
360-569-2211
Hours of Operation
Daily – 9:00 AM–4:30 PM
Be sure to check for seasonal closures.
---
Henry M Jackson Memorial Visitor Center at Paradise
Address
Paradise Rd E,
Ashford, WA 98304
Phone Number
(360) 569-6571
Hours of Operation
Daily – 10:00 AM–4:30 PM
Be sure to check for seasonal closures. Open year-round, but weekends only in winter (generally October-May)
---
Ohanapecosh Visitor Center
Address
Randle,
WA 98377, USA
Phone Number
(360) 569-6581
Hours of Operation
Daily – 8:00 AM–6:00 PM
Be sure to check for seasonal closures. Generally open late June through mid September
---
Sunrise Visitor Center
Address
Sunrise Park Rd,
Ashford, WA 98304
Phone Number
(360) 663-2425
Hours of Operation
Daily – 8:00 AM–6:00 PM
Be sure to check for seasonal closures. Generally open July through mid September