Year Established: 1938
Annual Visitors: 2.72 Million
Size: 922,651 Acres
Firearms Information in Olympic National Park
As of February 22, 2010, a federal law permits those who are legally allowed to possess firearms under applicable federal, state, and local regulations to do so in Olympic National Park.
Before visiting, it is your responsibility for understanding and abiding by all applicable state, local, and federal firearms regulations. You can visit the Washington state website for more information.
To learn more about Washington's Gun Laws, click here.
Hunting in Olympic National Park
While hunting is prohibited in Olympic National Park, you can hunt close-by in Olympic National Forest. Many hunters value the forest for its backcountry hunting options and the ability to hunt without disturbing game or degrading habitat through the use of motorized vehicles. The Olympic National Forest is under the jurisdiction of Washington State for hunting restrictions. Refer to the Washington Department of Fish and Wildlife for the most recent hunting information.
To learn more about Washington's Hunting Laws, click here.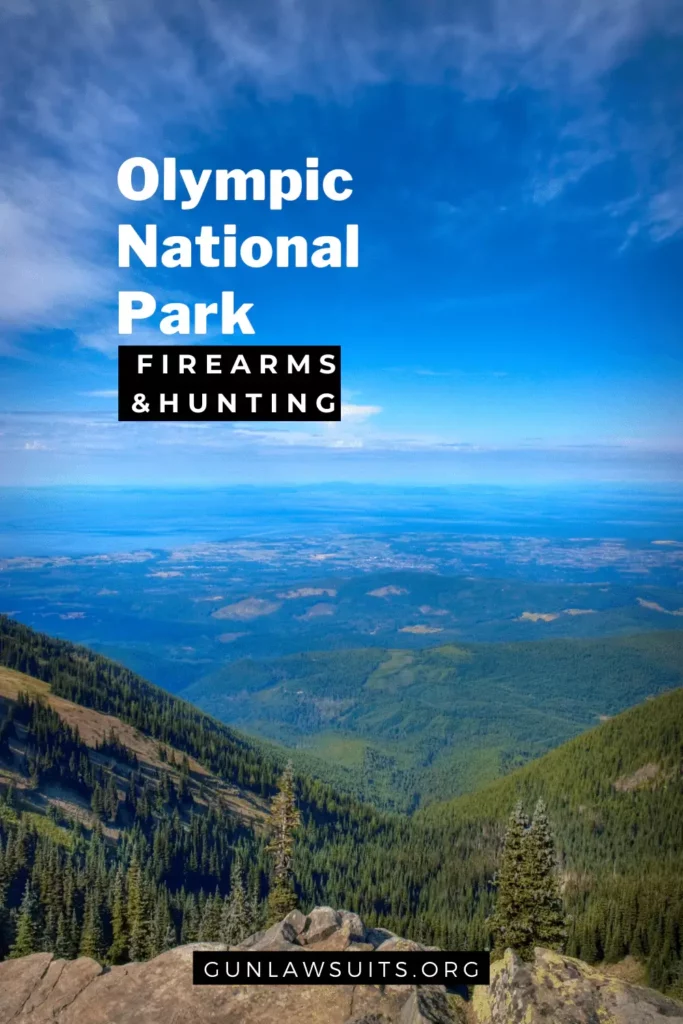 Additional Information About Olympic National Park
From icy glaciers to warm coastal tidal pools, this nearby park offers a wide variety of ecosystems. These are the Pacific Northwest's last great rain forests. Olympic receives an average of 12 feet of precipitation annually, making it home to 140 different species of ferns, mosses, and lichens. Animals including salamanders, banana slugs, snails, Roosevelt elk, and the critically endangered northern spotted owl make their homes in the wild woodlands.
The park's 600 miles of trails are a magnet for hikers, and beachgoers often catch sight of harbor seals, sea lions, and even humpback whales when they breach or slap their flukes and fins on the water's surface in communication with one another.
The Elwha River originates in the park and empties into the Salish Sea, which is close to Canada, in a northerly direction. The Lower Elwha Klallam tribe has had to deal with flooding on their property since since two hydroelectric dams were built on the river in the early 1900s, which provided electricity to the area but also prevented salmon from swimming upstream and disrupted the flow of sediment.
To clean up the Elwha River, the greatest dam removal project in history got underway in 2014.
There have been five species of salmon and three species of trout reintroduced to the river since then. In order to better understand fish movement, people can now participate in the Adopt-A-Fish radio tracking project.
Best Time to Visit Olympic National Park
The best time to visit Olympic National Park is between the months of June to September.
Visitor Fees
$15.00 per person/cyclist valid for up to 7 days.
$30.00 per vehicle valid for up to 7 days.
$25.00 per motorcycle valid for up to 7 days.
$55.00 for the Olympic National Park Annual Pass
The Olympic National Park Annual Pass costs $55 and gives you access to the park for a year from the month you buy it. Passes can be bought at visitor centers and entrance stations in Olympic National Park.
---
Interesting in visiting multiple National Parks this year?
Consider the America The Beautiful Annual Park Pass.
This annual park pass to gets you and some friends into all U.S. National Parks for $80.
They also offer Senior, Military, and other discounts.
---
Visitor Centers
Olympic National Park Visitor Center
Address
3002 Mount Angeles Road,
Port Angeles, WA 98362
Phone Number
(360) 565-3130
Hours of Operation
Daily 9:00 AM–4:00 PM
Be sure to check for seasonal closures. (Their hours change each season, it is best to call for the most accurate hours)
---
Port Angeles Wilderness Information Center
Address
3002 Mount Angeles Road,
Port Angeles, WA 98362
Phone Number
(360) 565-3100
Hours of Operation
Daily 9:00 AM–4:00 PM
Be sure to check for seasonal closures. (Their hours change each season, it is best to call for the most accurate hours)
---
Hoh Rain Forest Visitor Center
Address
Approximately 31 miles south of Forks off Highway 101
18113 Upper Hoh Rd.,
Forks, WA 98331
Phone Number
(360) 565-3000
Hours of Operation (October Hours)
Daily 9:00 AM–5:00 PM
Be sure to check for seasonal closures. (Their hours change each season, it is best to call for the most accurate hours)