Size: 199,224 Acres
Year Established: 1935
Annual Visitors: 1.59 Million
Firearms Information in Shenandoah National Park
Anyone who is eligible to possess a handgun under federal, state, and local law can do so in this park.
Before visiting the park, guests are responsible for familiarizing themselves with and abiding by all local, state, and federal firearms regulations. To learn more, check out the Virginia State Police's page on gun regulations in the state.
Keep in mind that federal law forbids the possession of guns in some park buildings. Mainly federal buildings.
There are signage at the entrances of these areas.
If you would like to learn more about the Gun Laws in Virginia, you can click here.
Hunting in Shenandoah National Park
Each of Virginia's national parks has a strict no-hunting policy, including Shenandoah National Park.
To learn more about Hunting Laws in Virginia, you can click here.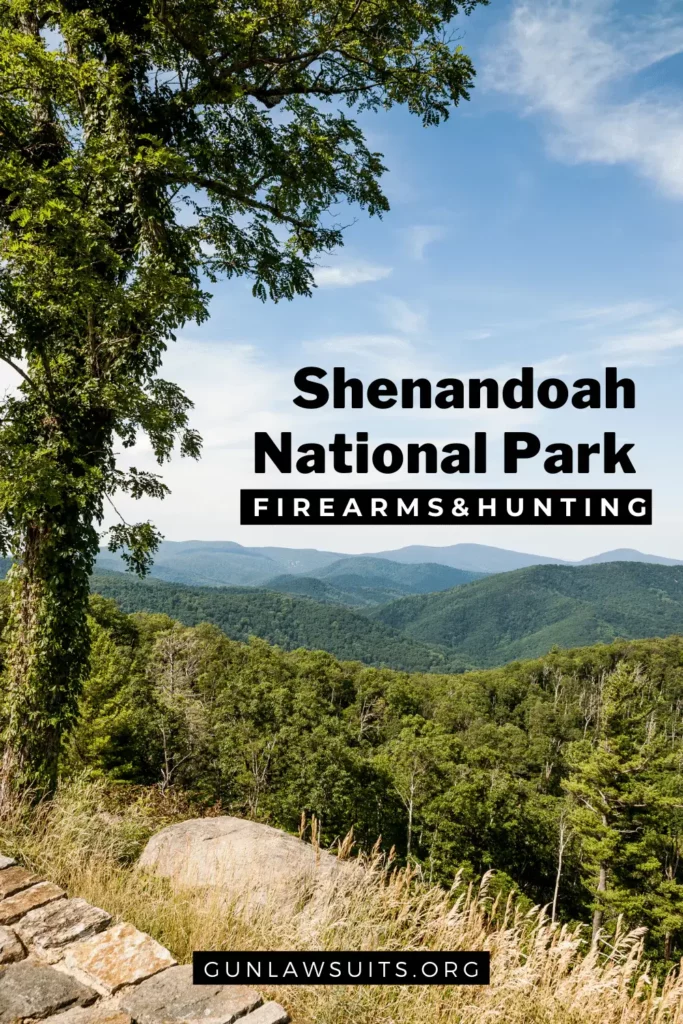 Additional Information About Shenandoah National Park
Only 75 miles from the nation's capital, this section of the Blue Ridge Mountains had been logged and farmed for centuries. To aid in its recovery from the Great Depression, the federal government purchased tracts of property.
Hickory, oak, fir, and poplar trees were planted there by members of the Civilian Conservation Corps, a work relief program initiated by President Franklin D. Roosevelt.
Several of the world's best fishing streams can be found in this park. Herbert Hoover used to go trout fishing at his cabin on the Rapidan River.
Waterfalls, wooded ravines, and flower-filled meadows await park visitors. They can take a trip down Virginia's renowned 105-mile-long Skyline Drive in the autumn to witness the foliage season. The park is home to a wide variety of wildlife, including black bears, beavers, raccoons, and perhaps an eastern cougar if you're lucky.
Best Time to Visit Shenandoah National Park
The best time to visit Shenandoah National Park is between the months of September to November.
Visitor Fees
$15.00 per person for up to 7 days
$30.00 per vehicle for up to 7 days
$25.00 per motorcycle for up to 7 days
$55.00 per Shenandoah Annual Pass
---
Interesting in visiting multiple National Parks this year?
Consider the America The Beautiful Annual Park Pass.
This annual park pass to gets you and some friends into all U.S. National Parks for $80.
They also offer Senior, Military, and other discounts.
---
Visitor Centers
Dickey Ridge Visitor Center & Park Store
Address
17065 Skyline Drive
Front Royal, VA 22630
Phone Number
(540) 999-3500
Hours of Operation
Daily 9:00 AM–5:00 PM
---
Byrd Visitor Center & Park Store
Address
259 Big Meadows Visitor Road
Big Meadows
Stanley, VA 22851
Hours of Operation
Daily 9:00 AM–5:00 PM
Be sure to check for seasonal closures.