Size: 33,971 Acres
Year Established: 1903
Annual Visitors: 709,000
Firearms Information in Wind Cave National Park
On February 22, 2010, federal law made it legal for people who can legally own guns under federal, state, and local laws to do so in Wind Cave National Park. Keep in mind that some park buildings are banned by federal law from having guns in them. These places have signs at their entrances.
You can learn more about South Dakota's Gun Laws here.
Hunting in Wind Cave National Park
Within the boundaries of Wind Cave National Park, hunting is prohibited.
You can learn more about South Dakota's Hunting Laws here.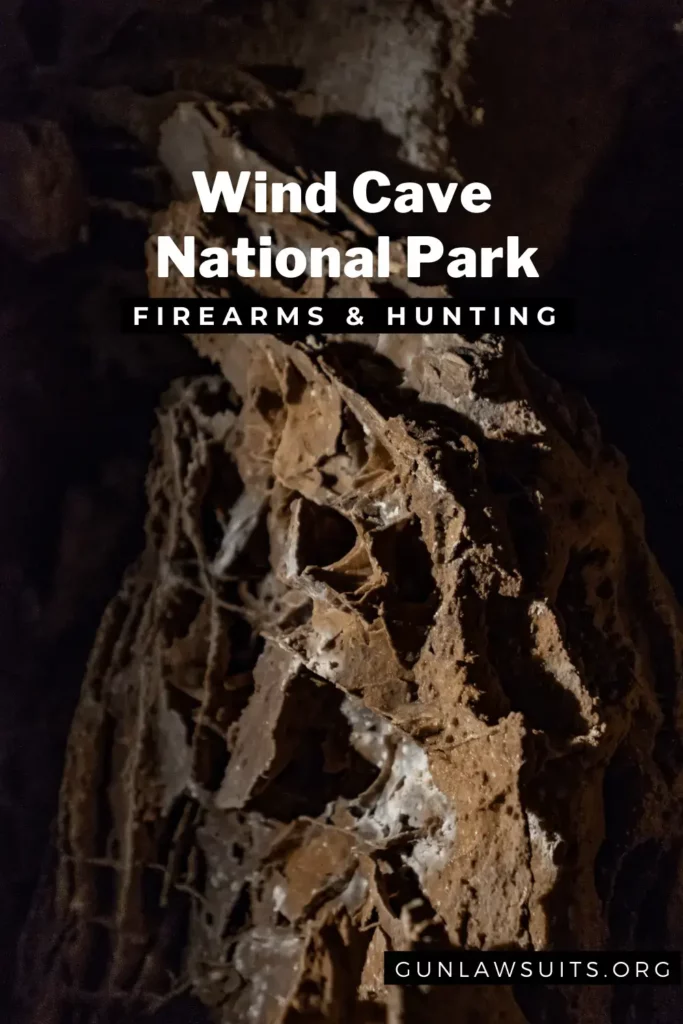 Additional Information About Wind Cave National Park
Wind Cave in the Black Hills is really two separate parks in one. At higher elevations, elk, bison, wild turkeys, and prairie dogs congregate in grass grasslands and pine woods. There's a tangle of tunnels underneath, totaling 130 miles and making them the sixth-longest in the world.
There is a loud whistle noise from inside the caves that may be heard when you stand close by. As the cave's internal pressure fluctuates, air is forced in and out at speeds of up to 70 miles per hour.
Minerals such as the boxwork formations of calcite, which resemble honeycombs, can be found in many of the cavities. Theodore Roosevelt decided to turn this cave into America's first underground park because of its unusual features.
Best Time to Visit Wind Cave National Park
The best time to visit Wind Cave National Park is between the months of March to September.
Visitor Fees
There is no fee to visit. You can drive around the park and go hiking without having to pay anything.
---
Interesting in visiting multiple National Parks this year?
Consider the America The Beautiful Annual Park Pass.
This annual park pass to gets you and some friends into all U.S. National Parks for $80.
They also offer Senior, Military, and other discounts.
---
Visitor Centers
Wind Cave Visitor Center
Address
26611 US-385,
Hot Springs, SD 57747
Phone Number
(605) 745-4600
Hours of Operation
Daily 8:00 AM–4:30 PM