When it comes to concealed carry, Connecticut is a may-issue state. But this comes with a lot of discretion from the agencies in charge.
The two agencies levied with the task of considering a permit are the local law enforcement agencies and the Department of Emergency Services and Public Protection (DESPP)
If you want to conceal carry in Connecticut, understanding the laws of the state would keep you out of trouble, and there are a lot of them you need to know.
Don't fret, let's get to it.
Connecticut Gun Laws
Concealed carry in Connecticut is legal. However, you have to be at least twenty-one years old before you can carry.
The state does not honor a CCW permit from any other state in the country, and Connecticut concealed carry permit application is open to only residents.
For non-residents to conceal carry in the state, a Connecticut Pistol Permit (CTPP) alongside the CCW from the original state is required.
Before the state issues you a CTPP, you must have passed a recognized concealed carry class Connecticut.
Connecticut Gun Reciprocity
Connecticut does not accept any other state's CCW permit, but that does not mean every other state will automatically reject your Connecticut concealed carry permit.
Connecticut's reciprocity can be classified into these three parts.
States that will honor a CCW permit from Connecticut: With a CCW permit Connecticut, you can conceal carry in this state. There are twelve of them
State with restricted reciprocity with Connecticut: Only the state of Michigan will honor a resident CCW from Connecticut
Permit-less States: As long as you can legally own a gun, these states will not request for a permit before you can conceal carry. There are fourteen of them.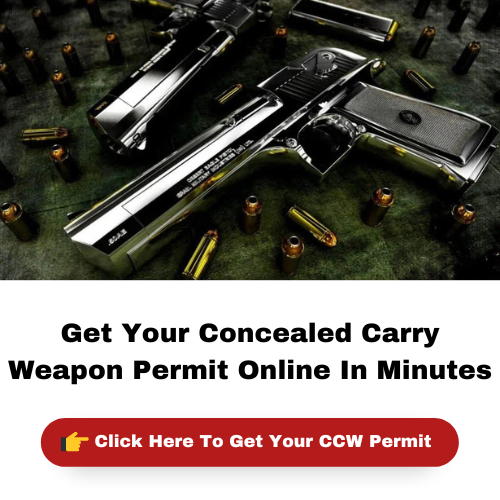 Regardless of the type of CCW permit a state accepts, you still have to conceal carry in accordance with the law of the state.
Therefore, if you must be with your firearm in any other state, you have to read about the state's CCW regulations.
This will keep you away from trouble.
Location Restrictions For CCW In Connecticut
There are off-limit places for concealed carry in Connecticut. Even with a CCW permit, you are not allowed to be with your firearms in these places.
Places Where You Can't Carry Guns In Connecticut
School environment and events organized by the management of a school.
National parks, forest reserve, etc. The only exception to this is if the Department of Environmental Protection gives you permission.
Locations with offices or chambers that are used by any member of the house of assembly in Connecticut
Any building used for a public hearing by a member, officer, or employee of the state's house of assembly
Properties in Woodbridge that are town-owned
Private buildings or businesses that clearly have signage that prohibits the usage of a gun on the premises.
Any property or area that the federal or state government has restricted the usage of concealed carry.
You need permission to conceal carry in the following situations:
Transporting a firearm to and from your home or your place of work.
Transporting a firearm to and from a shooting range
To possess a CCW on someone's private property
Places Where You Concealed Carry In Connecticut
Bars and restaurants that do not have warnings that prevent the possession of a weapon in the premises
In your vehicle, but you have to be with your CCW permit
In areas like roadsides and rest places
Other places that are not restricted by the law and do not carry a post that prevents the possession of weapons
Concealed Carry For Law Enforcement Agencies In Connecticut
Active and retired officers of the law may choose to conceal carry or not. This is according to a federal law that allows officers of the law to conceal carry a firearm in any part of the country.
For concealed carry Connecticut, the Department of Emergency service provides firearm training to officers of the law that are retired or not actively in service. However, they must be a resident of the state
All participants must successfully complete the program before they can be allowed to conceal carry. The participants will also undergo basic classroom training.
After passing the training, the state will authorize the usage of CCW. Retirees' personal information will also be collected. Once they are deemed ineligible to possess a gun, the authorization will be withdrawn.
Dealing With A Gun In Connecticut
Concealed carry Connecticut covers the buying and selling of guns in the state. If you intend to deal with a gun in Connecticut, here are some of the things you must know:
Purchasing Permits In Connecticut
Before you can buy a gun in Connecticut, you need a permit. There are two types of permits for this.
Connecticut Pistol Permit (CTTP)
Certificate of Eligibility for Firearms.
Don't get worried, you do not need both permits. Just one will do.
If you want to apply for any of these permits, the following is required of you:
Complete a safety course that is approved by the state government.
Have a successful criminal background check and a clean mental health record from a mental institution.
Background Check For Dealing With Gun In Connecticut
For every buyer, a National Instant Criminal Background Check System (NICS) must be duly completed.
Private dealing of firearms in Connecticut can only be possible when both parties have CTPP. A transfer form will also be submitted, after which the user's authorization number will be provided.
The background check is a very important aspect of buying a firearm in Connecticut, whether or not you already possess a Connecticut concealed carry permit.
Registration Of Handgun
The registration of all purchased firearms in the state of Connecticut is overseen by the Department of Emergency Services and Public Protection.
This agency is also responsible for the transfer of any firearm after buying. They issue the authorization number and submit the form that contains personal and weapon details to the Police.
Age Requirement For Dealing With Firearm
Nobody under the age of twenty-one is allowed to buy, sell, or possess a firearm in Connecticut. The only exception to this is for shooting practice or firing in a shooting range.
However, there has to be legal permission and possession of the firearm for this purpose.
Also, the person must be supervised by someone who has the qualification to handle a firearm.
Process For Purchasing Handgun In Connecticut
Here is the stepwise process for buying a firearm in Connecticut
Complete the eligibility permit form and submit it as the DESPP office in Middletown, Connecticut.
Pay a fee to the treasury office of the state of Connecticut
Provide a certificate to prove that you are legally a citizen of the United States. This could be either a birth certificate, the US passport or a document issued by the ICE
Provide you Connecticut identification card
Provide your fingerprint for the NICS background check via your local law enforcement agency. This comes with added fees.
If your application is approved, DESPP will receive your photograph and grant you a certificate of eligibility
Connecticut CCW Permit Requirements
Before getting a Connecticut concealed carry permit, you must meet some of the CCW requirements. They include the following:
You must be at least twenty-one years' old
You must not be an illegal resident of the United States
You must reside or have a business around the jurisdiction you are applying for the concealed carry permit application
You must be willing to use the firearm for only legal purposes
You must meet the background check requirement to receive a CCW permit
You must have completed a concealed carry class Connecticut
You must not have been previously convicted of a felony
You must be free from the usage of narcotic substances
You must not be a fugitive
You must not have been convicted of a third-degree assault or reckless endangerment
You must not have been convicted for any case of stalking
You must not be a victim of riot or unlawfully restraint in the past
You must not have any diagnosis of mental illness
You must not have a legal restraining order from a judge due to threatening or use of physical force towards anybody
You must not have been a victim of firearm seizure due to posing a danger.
You must not be legally prohibited from having a firearm by the court of law.
You must not violate other federal government concealed carry permit requirements Connecticut
How To Renew Your Connecticut Concealed Carry Permit
There are four stages to renewing your CCW Connecticut:
Application For Renewal
When it is ninety days to the expiration of your CCW permit, you will get a mail from the DESPP to confirm your last residential address.
You can begin the renewal process at the DESPP head office within a period of ninety days before and after your CCW permit expires.
If you elapse the ninety-day deadline, your renewal application will not be granted. You will have to apply for the permit all over again.
Confirmation Of Details
You will be required to confirm the details of your previous CCW permit. If you do not receive any mail, you can download the form online.
To make the correction, draw a line across the incorrect detail and write down the correct one.
Submission Of Form
You have the option of online renewal via mail, or you can renew in person at the DESPP office.
For renewal in person, submit your corrected form to DESPP alongside a proof that you are legally in the country. This should be done by submitting the following
The US passport
A birth Certificate or Document from ICE.
You will also provide a copy of your photograph and your signature.
For mail renewals, pend your signature on the corrected form. A notary must be present while you do this.
Also, attach your recently taken passport photograph in a space provided on the form.
You also have to prove that you are a legal resident in the country by submitting the documents above.
All of these should be mailed in a stamped envelope.
Receive Approval Mail
Once your application has been approved, your new permit will be granted.
Castle Doctrine In Connecticut
Castle doctrine is one of the most delicate aspects of the Connecticut gun law.
This law allows a person who owns or is in charge of a premise to protect themselves within the premise.
This permits the use of a reasonable physical force against the intruder when the homeowner is of the impression that the intruder is illegally trespassing.
The use of deadly force in Connecticut's castle doctrine law in a subjective one. The law deems deadly force reasonable when used for any of the following reasons:
For self-dense or to defend someone in your premises
When the force is used to against an action to commit a deadly crime by the intruder
When the force is necessary to prevent the user from gaining entry into your abode
Castle doctrine in Connecticut means that you do not owe anyone a duty to retreat when you are attacked in your home. But this does not apply when you're away from your home.
Connecticut Concealed Carry Training
You must complete a CCW training before Connecticut concealed carry permit application. This can either be a physical training class or a Concealed carry class online.
The most important thing is that the training is approved by the DESPP. The training course should also include a live fire session.
The training class is a once and for all exercise, no other one would be required when you want to renew your permit
Connecticut Concealed Carry FAQs
Here are some of the most frequently asked questions about Concealed Carry Connecticut:
How Long Is A Connecticut Concealed Carry Permit Valid For?
A CCW permit in Connecticut is valid for a period of five years.
How Long Will It Take To Process My CCW Permit In Connecticut?
The processing time for CCW in Connecticut is sixty days.
Can A Non-Resident Apply For Connecticut CCW?
Connecticut issues CTPP to non-residents that have a permit from any other state in the country.
How Soon Can I Apply For Connecticut CCW After Changing Residence?
You can apply for a Connecticut concealed carry permit anytime.
Additional Resources
Connecticut Gun Laws
Connecticut Open Carry Laws
Connecticut Gun Permit Laws