Idaho is a shall-issue state for CCW permits. But you must meet all the requirements provided by the laws of the state.
The permit is issued at the county level by the local sheriff's office who has the discretion to approve or reject your Idaho CCW permit application.
There are two types of permits in Idaho, The Enhanced Conceal Weapon License and the Standard Concealed Weapon License.
With an Enhanced CWL, you can use the permit in other states.
Idaho Gun Laws
On the 25th of March this year, Idaho's governor, Brad Little, approved a new bill that allows residents of the state above the age of eighteen to own and possess a firearm even without a CCW permit.
With this law, you can conceal carry without Idaho CCW license in the following places:
Your home or any property that you own. This applies to leased properties.
Any building or property where the owner grants you permission to carry.
As a resident of Idaho, you can apply for an enhanced Conceal Weapon License if you will need it in your travels out of the state.
Idaho's CWL permit covers weapons such as the following:
Knives.
Daggers.
Pistols.
Revolvers.
Any other weapon that is considered dangerous.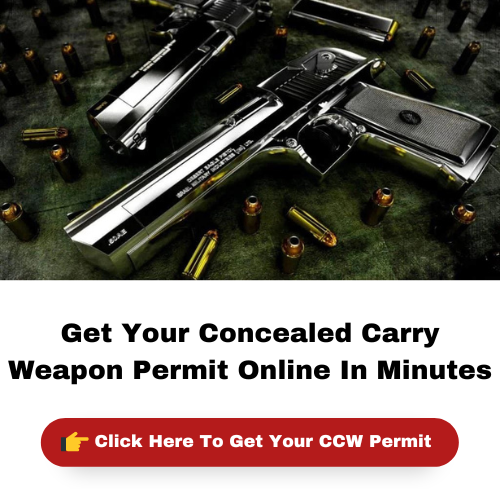 Gun Reciprocity In Idaho
For Idaho's CCW permit reciprocity deal with other states, you have to get the enhanced CWL because that is what most of the states will honor.
Residents and non-residents in the states are open to both CWL applications.
However, before you get Idaho's CCW permit, you have to undergo a required training course that has been licensed by the government.
Other aspects of Idaho reciprocity deal include the following:
States that Idaho will accept their CCW permits: Idaho is one of the few permitless states in the country. Therefore, you do not require any permit to possess a firearm or conceal carry within the state. But you must be above the required age of eighteen.
States that honor Idaho's CCW permit: These states will honor a concealed weapon permit from Idaho. There are twelve of them.
States that will honor only restricted reciprocity from Idaho: These states will only honor a "Residents Only" concealed carry permit from Idaho. There are fourteen of them.
States that do not require a permit for concealed carry: Like Idaho, these states do not require a concealed carry permit before you can carry within their territory. As long as your age is not lower than the required carry age, you can possess a CCW.
Even if you can use Idaho's CCW permit in other states, you should make sure that you are familiar with states' gun laws, and carry in accordance with these laws at all times.
Note that gun laws differ from state to state, and those in your state of residence might not be the same as the state you are visiting.
Idaho CCW Location Restrictions
Having Idaho concealed carry permit is not enough reason to possess a gun in all places in the state.
There are places Idaho gun laws regard as off-limits and you could be charged if found possessing a gun in these places.
Places Where You Can't Conceal Carry In Idaho
You cannot conceal carry in universities' dormitories or halls of residence. This also includes public areas and premises within a university or a college, that have a post prohibiting the usage of guns.
You cannot conceal carry in public or primary schools, both secondary and elementary. This includes school activities that are not within the school premises. An exception to this are adults that can legally conceal carry and have their firearm with them in the school's parking lot. The firearm must be locked away from public view and remain in the vehicle at all times.
You cannot conceal carry in a school bus or any vehicle that is meant for the transportation of school students.
You cannot conceal carry in a building that is used for children's care.
You cannot conceal carry in an outdoor event that is organized for children.
You cannot conceal carry in government's veterans' residence.
You cannot conceal carry within prison premises or a juvenile facility.
You cannot conceal carry within the premises of a privately owned building or any property that has signage prohibiting the use of firearms.
You cannot conceal carry while under the influence of alcohol or any drug substance.
You cannot conceal carry in any place where the possession of firearms is not prohibited by federal laws.
Places Where You Can Conceal Carry In Idaho
Idaho concealed carry laws do not restrict you from possessing your firearms in the following places:
Bars and restaurants except they have a sign that prohibits the usage of firearms. However, you must not be under the influence while possessing a conceal carry.
In your car as long as you have Idaho CCW permit. If you do not have a permit, your firearm must be safe, and in plain sight within your vehicle.
Roadsides and rest areas in the state.
State parks and forests, and national parks within the state.
Worship places as long as there is no post that prohibits the usage of weapons within the premises.
Law Enforcement Conceal Car Within The State.
According to federal laws of the state, Law Enforcement Officers that are active, retired, and out of service are allowed to conceal carry without restrictions and permits, in any part of the country.
In Idaho, this is overseen by each municipality. The sheriffs from various counties are in charge of Law Enforcement Officers Safety.
Unlike other states in the country that organize special training for retired officers to qualify for concealed carry, Idaho does not require this.
The local sheriff's office is in charge of determining if retired offices and those out of service qualify for concealed carry.
Buying And Selling Of Firearms In Idaho
Another important aspect of Idaho gun law is requirements for dealing in the sales and purchase of firearms.
Here are some of the things you should know.
Idaho Purchase Permits And Background Checks
No purchase permit is required to buy a firearm in Idaho. Also, you will not be subjected to any form of a criminal background check before your purchase can be completed.
However, it is advisable that you keep your receipt always. This can help you claim ownership of your firearm if need be.
There is also no handgun registration in Idaho.
Waiting Period For Firearm Purchase In Idaho
Unlike some states in the country, you do not have to undergo a waiting period before you complete your gun purchase.
Most waiting periods are due to the NICS background check. Since this is not a requirement in Idaho, there is no waiting period whatsoever.
Age Requirement To Deal With Gun In Idaho
To buy, sell, possess, or transport guns in Idaho, you must be at least eighteen years old.
However, there are some exceptions to this law:
An underage can possess a firearm if he/she has permission from a parent or legal guardian.
An underage can possess a firearm if he/she is in the company of a parent or guardian while in possession of the weapon
CCW Permit Requirements In Idaho
For concealed carry in the state, you must meet all Idaho concealed carry permit requirements. Failure to do so, your CCW application will not be considered.
These requirements include the following:
You must be at least twenty-one years old to apply for the Idaho CCW permit.
You must be a legal citizen of the United States and a legal resident of Idaho.
You must not be someone who has renounced the country's citizenship in the past.
You must complete an Idaho concealed carry class from a recognized firearm course.
You must be a resident of Idaho for a period of more than six months.
You must not be charged for any kind of crime that had you imprisoned for a period of more than a year.
You must not be a fugitive or have an arrest warrant in your name.
You must not be an illicit user of drugs, stimulants, or other substances that are under the control of the Drug Enforcement Agency.
You must not be adjudicated for a lack of mental capacity in accordance with Idaho law.
You must not be diagnosed as mentally impaired by a mental institution.
You must not be defined as disabled in accordance with Idaho state laws.
You must not be defined as an incapacitated person by Idaho state laws.
You must not have been dismissed from the United States Armed Force for dishonorable characters.
You must not have been guilty or/and been in probation for a misdemeanor, violent activities; like using physical force against another person, and adjourned as a threat to anyone. An exception to this is a completed probation period.
You must not have been charged for any crime that has to do with breaking CCW permit laws, or having a sentence for a CCW permit prohibited case.
You must not have a judge's restriction or protection in your name.
You must meet all other federal laws that have to do with applying for a CCW permit.
How To Apply For Idaho CCW Permit
Idaho concealed carry permit application has four basic steps. They include the following:
Complete Your Firearm Course
This is a very important requirement to apply for a CCW permit. You can put in for Idaho concealed carry class online, if you are too occupied for a classroom training.
But it is important that the training you enroll in is a licensed one and meets all state requirements.
Complete Application Form
The second step is completing your application form. This can be done by downloading it online or visiting your local sheriff's office.
Submit The Required Documents
The next step is submitting other documents needed to complete your application. They include the following:
Your already filled application form.
Your certificate of firearm training.
Your Photo identification.
Take them to the local sheriff's office, after which your fingerprints will be collected.
After these, wait for the approval mail.
How To Renew Your Idaho CCW Permit
Idaho concealed carry permit expires after five years. If you intend to continue carrying, you have to renew your permit.
Your Idaho permit renewal must be within a period of ninety days before and after your CCW permit expiries.
If you fail to renew your permit after this period, then you have to apply for a new one again
Here are the steps for a renewal application:
Complete The Application Form
Just as it was for the CCW application process, download your renewal application online or pick it up from your county's sheriff's office.
Submit Other Documents
The documents you will need to complete your renewal process includes:
The filled application
Photo identification.
After the waiting period, a mail will be sent to notify you of approval.
Idaho Firearm Training Requirements
Idaho state law accepts a number of completed firearm training courses before a CCW permits application can be granted. They include the following:
A hunter education course that is recognized by Idaho's fish and game department, or a related department from other states.
A National Rifle Association gun safety training under a hunter course.
A concealed carry class or firearm training program by any of these organizations: A law enforcement agency, managements of colleges, universities, schools, or a specialized firearm training school, that uses a certified instructor from NRA or the state's police force.
A law enforcement gun training course for security agents, officers of the law, investigators, peacemakers, and special duty officers.
A shooting training competition organized by the military.
An existing Idaho concealed carry permit.
A training course that was organized by a certified instructor from the local sheriff or the National Rifle Association.
Note that any other training outside the aforementioned ones will not be accepted.
Enhanced CCW Permit Training
For enhanced CCW training in Idaho, you need more training than the standard CCW permit training course.
This is because, with an enhanced CCW, you can conceal carry in more states than the ordinary permit.
The training must cover the following:
An eight-hour class and this must not be a virtual class.
Training that has to do with the use of firearms and deadly force. This must be overseen by a state instructor.
Safety and responsible handling of firearms.
Self-defense training and a live-fire session with a minimum of ninety-eight rounds.
Idaho Concealed Carry FAQs
Here are the frequently asked questions about Idaho CCW.
How Long Will It Take Me To Get My CCW Permit In Idaho?
Idaho CCW permit has a waiting period of ninety days.
Can I Get A Non-Resident CCW Permit In Idaho?
The state issues both residents and non-residents CCW permits and both permits have similar application requirements.
As a non-resident, if you have an already issued permit from your state of residence, you can apply for Idaho's enhanced CWL.
How Soon Can I Apply For Idaho CCW Permit?
You can apply for a non-resident permit anytime. But for a resident's permit, you must have lived in Idaho for at least six months before applying.
Additional Resources