The local sheriff's office at the county level is responsible for issuing CCW permits in Kentucky. The state operates on a shall-issue policy, hence meeting all requirements is an important criterion.
Furthermore, the sheriff has the discretion to either accept or reject your CCW permit.
Kentucky concealed carry laws are fair enough compared to those of other states.
Non-residents permits are not available except for military cases, but you can still possess your gun as long as you are of the required age.
Kentucky Gun Laws
Conceal carry Kentucky allows anyone that is above the minimum age of twenty-one to possess a gun with or without a CCW permit.
Kentucky CCW permit is called Concealed Carry of Deadly Weapons (CCDW). If you have this permit, you are allowed to possess, such as the following:
Pistols.
Revolvers.
Knives.
Clubs.
Iron Knuckles.
Nunchaku etc.
However, before you can apply for Kentucky's CCW weapon, a compulsory firearm course must be completed.
Kentucky does not issue a concealed carry permit to non-residents of the state. The only exception to this is military members who posted there.
Kentucky CCW Reciprocity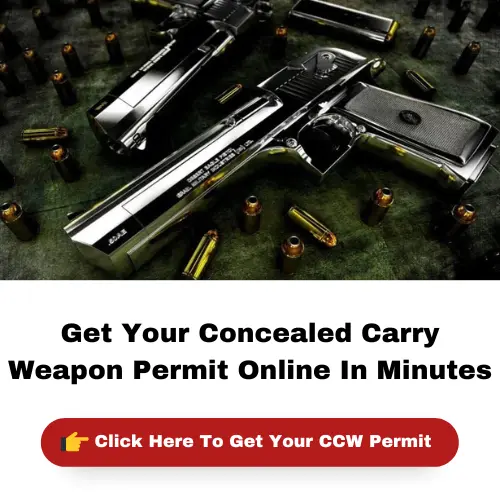 CCW permits issued by other states in the country are honored by the state of Kentucky as long as they are valid.
Other aspects of Kentucky CCW permit reciprocity include the following:
States that Kentucky will accept their CCW permit: Kentucky operates on a permitless policy. Hence, as a non-resident and visitor, you do not require a license to conceal carry. However, you must be at least twenty-one years old.
States that will accept Kentucky's CCW permit: These states will honor any CCW permit that is issued by Kentucky. There are nineteen of them.
States that have restricted reciprocity with Kentucky: These states will only honor a Kentucky CCW permit that is issued to residents. Non-resident's permits granted to members of the United States Armed Forces will not be accepted. There are five of them.
States that do not require a concealed carry permit: Just like Kentucky, these permitless states that do not require a permit before you are allowed to conceal carry. But you must be above the minimum age to possess a firearm. There are thirteen of them.
It is essential to understand the gun laws of states where you wish to conceal carry. It will help you handle your firearms accordingly.
Note that failure to do so might get you in trouble with the state's law enforcement agency. You could be charged with a misdemeanor or even more.
So, as a resident of Kentucky, before you conceal carry in any other state, make sure you meet all gun law requirements.
Kentucky CCW Location Restrictions
Even if you have the CCDW license for your firearm, you are not at liberty to brandish it everywhere in the states.
Kentucky conceal carry laws restrict you from possessing your firearms in some places, and you must keep to this at all times.
Places Where You Can't Conceal Carry In Kentucky
These places are off-limits for firearms.
You cannot conceal carry within the premises of a school except you get permission from the school management. This restriction includes school areas such as playgrounds, rest areas, school sports fields, or any other property that is owned by a school or the administration of an educational institution.
You cannot conceal carry in any facility meant for children's care or any infant daycare center.
You cannot conceal carry in a school bus or any other vehicle meant for the transportation of school students.
You cannot conceal carry within the premises of a police station or your county's sheriff's office.
You cannot conceal carry within the premises of a courthouse or during a court hearing.
You cannot conceal carry in an official meeting organized by a district, municipality, or a county.
You cannot conceal carry in a meeting or any seating of the state's General Assembly.
You cannot conceal carry in bars or anywhere that sells alcoholic drinks. An exception to this is a joint venture for both bar and restaurant. Such an enterprise must be open to the general public and can contain as much as fifty people at a time. Also, profits from alcohol must be less than fifty per cent of the venture's total income.
You cannot conceal carry in places in airports where the use of firearms is restricted.
You cannot conceal carry in universities, colleges, and technical institutions that are limiting the usage of firearms within their premises.
You cannot conceal carry in places where federal laws prohibit the use of firearms.
You cannot conceal carry within the building of a privately owned property that has signage or post prohibiting the usage of firearms with the premise.
You cannot conceal carry in areas that limit the use of firearms either by state laws or local government laws.
Places Where You Can Conceal Carry In Kentucky
Most people confuse these places with those restricted by concealed carry laws in Kentucky. But you are allowed to possess your firearms here:
Bars and restaurants. You can only conceal carry within the restaurant area and not in the bar areas.
You can conceal carry in your vehicle with or without a Kentucky CCW permit.
You can conceal carry in rest areas and roadsides.
You can conceal carry in state and federal forests or parks.
You can conceal carry in places of worship as long as they do not carry signage that restricts the usage of firearms within the premises.
Conceal Carry For Law Enforcement Officers In Kentucky
Law enforcement officers, including those active, retired, and out of service, are liable to conceal carry in every jurisdiction of the United States, without a permit or requirement restriction according to state laws.
A program organized by the state's police is available for retired law enforcement officers in Kentucky. Only retired officers who pass this program will be allowed to conceal carry.
Also, active peace officers in the state are allowed to conceal carry by the commonwealth.
Retired peace officers and retired law enforcement officers will undergo a training program from any of the following departments:
Department of Justice and Public safety.
Military affairs department.
Fish and Wildlife resources department.
Officers that qualify will be able to conceal carry without restriction in any part of Kentucky.
Buying And Selling Of Firearms In Kentucky
Another critical part of the Kentucky gun laws is regulations for sales, purchase, and transportation of firearms within the state.
Purchasing Permit And Background Checks
In Kentucky, you do not require any special permit to purchase or sell a firearm.
Even if you have obtained a Kentucky CCW permit, it is not a requirement for the possession of a firearm.
There are no firearms registrations too.
Also, no background check is required before you buy or transfer a firearm in Kentucky.
But do not lose your receipt since it may come in handy to prove your gun ownership.
Waiting Period For The Purchase Of Firearm In Kentucky
You do not have to undergo any waiting period before completing the purchase of a firearm in Kentucky.
You gain ownership of your gun as soon as the deal is complete.
Age Requirement For Dealing With Guns In Kentucky.
You must be at least eighteen years old before you can buy, sell, transfer, or transport a gun within the state's territory.
Possession Of Firearm At Homes
As long as you are within the legal age of handling a weapon in Kentucky, you can possess a gun.
Kentucky is a permitless state.
Kentucky CCW Permit Requirement
Before you apply for a Kentucky concealed carry permit, you must meet all the requirements of the state CCW laws.
Hence, you must understand these requirements before Kentucky concealed carry permit application because nobody wants their CCW application rejected.
The requirements include the following:
You must be at least twenty-one years old.
You must not be an illegal immigrant in the United States.
You must be a legal resident of Kentucky.
You must have lived in the state for a minimum of six years before the time you file for the Kentucky CCW application.
You must undergo and pass a licensed Kentucky concealed carry class.
You must not be charged to any federal or state law due to the use of illicit substances, or convicted of any crime related to the use of drugs or materials that are under control by the Drug Enforcement Agency.
You must not have more than two convictions for driving under the influence of alcohol or any other intoxicating substance that can affect your driving ability, within three years before your application.
You must not have been charged for any alcohol-related incident in the past three years before your Kentucky CCW application.
You must not be a child support debtor for a cumulative amount spanning over one year.
You must agree with any subpoena or child support warranty that requires you to settle proceedings.
You must not get convicted of any violent crime that results from the usage of fourth-degree terrorism within three years before your CCW application.
You must meet all other federal laws that have to do with CCW permit application
How To Apply For Kentucky CCW Permit
Now that you know Kentucky concealed carry permit requirements, the next step is to apply for your CCW permit.
The following steps would see you through that.
Complete Your Training
Before anything, make sure that you have completed your firearm training course, this could also be a Kentucky concealed carry class online.
Make sure that the government recognizes the course you enroll for, and the instructor has a license.
Submit The Required Documents
After obtaining your firearm certificate, take it alongside your passport photograph to your local sheriff's office in your suburban county.
You will get a Kentucky CCW permit application form, and you have to complete and sign it under oath.
Pay the required fee.
Get Approval Mail
Upon the approval of your application, you will get a mail to notify you.
How To Renew Your Kentucky CCW Permit
Your Kentucky CCW permit does not last forever. It is valid for just five years, after which you will have to renew or forfeit it.
You can begin your renewal process four months before the expiry date.
The state's police department will send you a reminder mail to notify you of your expiry date during this period.
With this mail comes the renewal application form.
Failure to renew your CCW application attracts an additional fee. You will have to pay fifteen dollars for late renewal.
You have until six months to pay this renewal fee, after which your Kentucky concealed carry permit with expire, become invalid and unrenewable.
After this, you can only apply for a new CCW permit.
Here are the steps to renewing you CCW permit
Submit Your Documents
Retrieve your renewal notice from the mail and take it alongside your passport photograph to the local sheriff's office.
After completing the application, you have to pay the required fee.
Receive Approval Mail
You will receive a mail to notify you of your approval once the sheriff's office grants the application
Kentucky Firearm Training Requirement
A Kentucky concealed carry class training that has been approved by the criminal justice department must comprise of the following:
A minimum of eight hours of training duration.
Training on how to use and handle guns. Including the safety and cleaning of firearms and other basic principles.
A live-fire session in a shooting range organized as safely as possible, with shooting a minimum of at least twenty rounds at a complete silhouette in which not less than eleven rounds hit the target.
A class tutorial on possession and concealed carrying of firearms according to the state gun laws, and laws relating to self-defense.
Proof that the candidate has the required gun law knowledge that has to do with using the needed force following the Department of Criminal Justice Training handout. The candidate must sign that the handout has been read and understood.
There are no further training requirements for Kentucky CCW permit renewal.
Kentucky Concealed Carry FAQs
Here are some frequently asked questions about Kentucky CCW.
How Long Will It Take To Get MY CCW Permit After Application?
Kentucky CCW permit has a waiting period of ninety days.
Can I Get A Kentucky Non-resident Permit?
A non-resident permit is only issued to members of the military that posted to Kentucky
How Much Is Kentucky CCW Permit?
Application for the CCW permit costs sixty dollars while that for renewal costs twenty dollars. Renewal with late delivery will require an additional fifteen dollars.
What Should I Do If I Lost My Kentucky CCDW Permit?
For lost or stolen permits, report to your local sheriff and request for a duplicate CCW permit. It costs fifteen dollars.
Additional Resources
Kentucky Gun Laws
Kentucky Open Carry Laws
Kentucky Gun Permit Laws