Colorado is not a constitutional carry state, and you need a gun license to carry firearms. The state has a shall-issue policy for the application of gun permits, and as long as you meet all the requirements, you will be issued a permit. The local sheriff in a county is in charge of gun permit processing in the state.
Unlike most states in the US, the sales of firearms by private individuals and gun shows in Colorado come with a statutory background check. And the state Bureau of investigation must approve the sales or transfer of such firearms.
Possession of Firearms in Colorado
The age requirement to open carry firearms in Colorado is a minimum of 18 years old. However, there are exceptions to this in some counties, and you must be at least 21 before you can carry firearms. Colorado also has gun laws that prohibit the possession of firearms in certain regions and locations of the state. Municipalities, counties, and local governments have the power to restrict open carry within their jurisdiction.
As a resident of Colorado, before you can conceal carry in the state, you need a state concealed weapon license. Nonresidents are allowed to conceal carry if they have a gun permit from a state that Colorado has reciprocity with. The minimum age to apply for a concealed weapon permit in Colorado is twenty-one years old. You must also not have any federal or state prohibition from the possession of firearms before you can conceal carry in Colorado.
To apply for a concealed carry permit, you must complete a gun training education course approved in the state. Nonresidents are not allowed to apply for a Colorado gun license, but exemptions are made for members of the military that are posted to the state and their family members, as long as they are within the age requirement of applying.
According to Colorado gun laws, you can conceal carry in your private car, without a gun permit. But to conceal carry or possess firearms in roadside areas of the state, you will need a gun permit.
Also, Colorado gun statutes indicate that you can make use of a firearm for concealed carry in parks and forests in the state. And you can also conceal carry in restaurants and bars except there is a post prohibiting this, or if you are under the influence of alcohol.
Gun laws in Colorado do not make mention of possession of firearms in hotels or lodging establishments. Since they are private properties, the management of these places has the power to develop policies and regulations for the possession of firearms on their premises.
Not all gun laws are permitted in Colorado. The state prohibits the manufacturing, possession, sales, and purchase of Teflon-coated ammunition in the state. The state also warns that anybody found with prohibited items will face prosecution.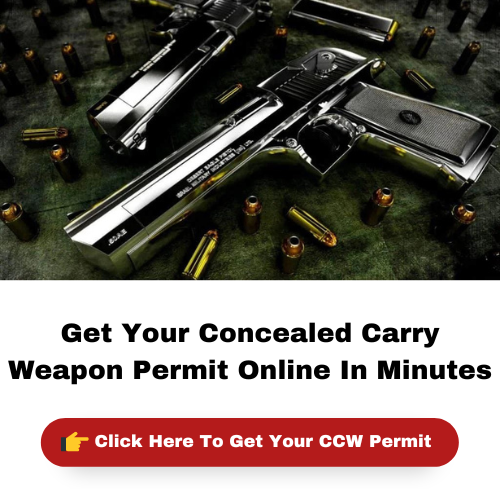 Places Where You Cannot Possess Firearms in Colorado
Even with a Colorado gun permit, you cannot possess firearms in some locations or regions in the state. These places may also vary from one local government area to another. So it is your responsibility to be aware of local gun restrictions:
You cannot conceal carry in school buses or any vehicle that is used to transport school students.
You cannot conceal carry in any gathering, event, or function that is organized by a school management
You cannot conceal carry in a school hostel or any building that is rented for school purposes.
You cannot conceal carry in a stadium or during a professional sporting event.
You cannot conceal carry in or within the premises or a courthouse.
You cannot conceal carry in restricted areas of an airport.
You cannot conceal carry in any building or property that is government-owned.
You cannot conceal carry in places of worship, except permitted by those in charge of the place.
You cannot conceal carry in a prison or any building used for criminal detention.
You cannot conceal carry in any mental institution.
You cannot conceal carry in a building that is used for the storage or nuclear power
You must be at least one hundred and fifty feet away from your gun in a polling center.
You cannot conceal carry in any places that have been prohibited by federal laws.
Application of Gun License in Colorado
After completing your gun permit application form, take it to the sheriff's office of your local county. Some of the other documents you will have to provide are a firearm training certificate or any other proof that you completed a firearm training, a means of identification, which could either be a driver's license or state identification card and a passport photograph that you recently took. Also, at the local sheriff's office, officials will also obtain your fingerprints.
After submission, you have to wait for the stipulated period to receive a mail notifying you of your application status, whether it has been approved or denied.
The permit is valid for five years; after which you have to apply for a renewal permit. The permit renewal process in Colorado can begin as soon as one hundred and twenty days before the expiry date of your current permit. To renew visit your local county sheriff's and collect the renewal application form.
Your renewal application period will last sixty days after the Colorado pistol permit expires. To renew within this period, you will pay a late renewal fee of about fifteen dollars.
The renewal of permit after these sixty days is not allowed, therefore the permit becomes invalid, and you will have to start all over with the application process.
The documents you have to submit for the renewal application are a completed renewal form, a photograph identification, and proof of Colorado residency. The proof of residency could be a tax payment receipt, a mortgage statement, or similar documents.
You will also need an affidavit stating that the holder qualifies for the renewal and has paid the required fee. It is compulsory that the affidavit is notarized.
For the initial Colorado gun license application, the cost ranges from fifty-two dollars to about one hundred dollars, depending on extra charges from the office of the sheriff.
The price for renewal permits ranges from fifty to sixty-three dollars. Late renewal attracts an additional fee of fifteen dollars.
To effect a change of name or address on your Colorado pistol permit, you must notify the sheriff of your local county within thirty days before completing the change of address form.
If you lost the permit, you must notify the sheriff of your local county in not less than three business days before obtaining and completing the lost or destroyed gun permit form.
For firearm training, a piece of evidence for the completion of one of the following is needed before the Colorado gun permit application
A license certificate from Concealed carry class Colorado obtained within a duration of 10 years prior to the gun license application.
Proof of military service
Proof that you are a licensed instructor when applying for your CCW permit
Proof of experience in handling gun or any other firearm
Certificate of retirement from any law enforcement agency in Colorado within a duration of 10 years prior to application
Requirements to Apply for Gun Permits in Colorado
Colorado is a shall-issue state, and if you meet the gun requirements, the state will be obligated to issue you a gun license. Before applying for the license, make sure that you meet all the requirements, so that you do not get a rejected application.
You must be a resident of the state.
If you are a non-resident, you must have a family member who is active in the armed forces and has been posted to Colorado for any military service.
You must be at least twenty-one years old
You must meet all Colorado concealed carry permit requirements or that of the federal government
You must not be guilty of perjury for providing a piece of false information during the Colorado CCW application
You must not be declared mentally fit by a mental institution for a period of at least 3 years after recovering from an addiction
You must not have a restraining or protection order in your name.
You must not be an illegal user of controlled substances and you are not a narcotic.
You must not be guilty of a misdemeanor or any form of domestic violence
You must undergo any of the accepted firearm training courses from a licensed instructor approved by the state.
You must not have any protection or restriction order in the state.
You must meet all federal requirements for the application of firearm permits.
Is Constitutional Carry Colorado the Same in Every Part of the State?
Preemption gun laws in Colorado only allow local areas and municipalities to regulate firearms for safety reasons and restrict possession in some locations. It is also compulsory that restricted areas carry signs and posts prohibiting the possession of firearms.
However, no county, municipality, or political subdivision may allow permitless carry Colorado within their jurisdiction.
Additional Resources
Colorado Gun Laws
Colorado Concealed Carry Laws
Colorado Open Carry Laws
Colorado Gun Permit Laws