Illinois operates on a shall-issue policy when it comes to CCW. This means one you meet Illinois CCW permit requirements, you will get the license.
The state police are in charge of issuing the permit and they carry out a further assessment to make sure that you qualify and you are in a perfect state to get a license.
After completing the assessment, the police can either choose to accept or reject your Illinois concealed carry permit application.
If your application is rejected, and you are of the opinion that you meet all requirements, then you can raise a case with the Concealed Carry Licensing Review Board. The board has a final say on decisions that involve CCW permits.
To make sure that you don't go through the hassle of the CCL review board, ensure that you understand and satisfy all Illinois concealed carry law before applying.
Now, let's talk about all you need to know.
Illinois Gun Laws
Gun law in Illinois requires anybody that owns a firearm in Illinois to get a Firearm Owners Identification Card (FOID).
In the same vein, you need a Conceal Carry License (CCL) and must be above the age of twenty-one before you can conceal carry in the state.
CCL serves as Illinois concealed carry permit, and with it, people can possess a gun, either loaded or not, on themselves or in their vehicle.
If you have a FOID license, but do not own an Illinois CCW yet, then you are not allowed to conceal carry legally.
In this case, if your firearm is with you, it must be unloaded, considered safe, and locked in its case.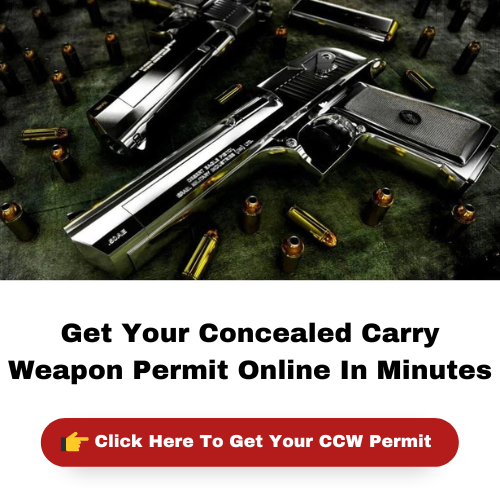 Illinois Gun Reciprocity
Illinois does not have a reciprocity deal with any other state in the country. Illinois concealed carry permit is strictly for residents of the state.
However, Illinois will give you a non-resident permit if you are from the following states.
Arkansas
Idaho
Mississippi
Virginia
Texas and
Nevada
Asides these, other aspects of Illinois reciprocity deal include the following:
States that will accept a CCW permit from Illinois: If you are in these states with your Illinois CCW permit, it will be honored. There are fourteen of them.
State that partially accepts CCW permit from Illinois: Michigan will accept a "residents only" CCW permit from Illinois. So if you have a nonresident permit from Illinois, it is invalid in this state.
States that run on permitless carry: In these states, as long as you are within the legal age bracket stated by their law, you can conceal carry. No further permission is required. There are fourteen of them.
Illinois CCW Location Restriction
Even if you own an Illinois concealed carry permit, there are still places that the states' law restricts you from possessing your firearm.
Places Where You Can't Conceal Carry In Illinois
For conceal carry Illinois, the following places are considered off-limits by the law of the states.
Buildings and properties with parking areas: An exception to this is that you can be with your weapon in the parking area within the confinement of your vehicle. But while leaving the vehicle for the building premises, the firearm has to be safely stored and kept away from public view.
Schools: And this includes public and primary, elementary, universities, colleges, and other buildings meant for children. The closest you can be with your firearm in these places is a thousand feet away, in your vehicle.
Stadiums: This includes the buildings attached, parking lots, and every other premise of the stadium or any building used for a sporting event.
Offices of government officers, including those from the legislative arm of the state government.
Hospitals, medical homes, and buildings used for mental health facilities.
Prison homes, jails, and buildings meant for juvenile correction.
Vehicles used for public transportation.
Restaurants and bars that majorly sell alcoholic beverages.
Buildings and facilities used for gaming purposes.
All Airports in the state.
Public places like, parks, museums, and zoos.
Facilities that are used by the Nuclear Regulatory Commissions for the storage of nuclear energies and weapons.
Any privately owned property that has well-inscribed signage prohibiting the usage of weapons within the surrounding.
Within the premises of a court.
Buildings that are owned by local, state, and the federal government.
Rallies and gatherings for special occasions that are open to the general public
Forest reserve properties in the state.
Any other place that is restricted by the federal government conceal carry law.
Places Where You Can Conceal Carry In Illinois
You can conceal carry in your vehicle if you have an Illinois CCW permit. For nonresidents moving through Illinois, a permit from your state of residence is required.
You can carry in parks and forest areas reserved for shooting range.
You can carry in places of worship that do not have signage that prevents the use of a firearm on the premises.
Concealed Carry For Law Enforcement Agencies In Illinois
Retired and active Law enforcement agency officers are allowed to conceal carry in any part of the United States.
In Illinois, only active officers qualified retired officers, and officers that are separated from service are allowed to conceal carry.
A retired officer can only qualify to conceal carry after passing a training organized for this purpose.
The training is an annual program overseen by The Illinois Retired Officer Concealed Carry (IROCC).
Dealing With Guns In Illinois
Strict laws guide the process of dealing with guns in Illinois. So, before buying and selling in the state, there are a lot of things you should know.
Purchasing Permits In Illinois
You need an Illinois concealed carry permit to be able to deal with guns in the state. Every buyer must have a FOID card before a gun can be sold to him/her.
However, there is an exception to the purchase of guns in some places. Licensed firearm dealers can make a background check and oversee other due processes for a buyer.
There are also municipality laws in the state. For example, in Cook County, you are only allowed to buy one gun in a month.
Background Check For Gun Purchase In Illinois
For private sales of firearms in the state, the seller is required to ask for the buyer's FOID card and must also document the sales record. For every sale, the record must be kept for a period of ten years.
The verification of a buyer's FOID card is done by making contact with the local law enforcement agency for approval. The sale must not be made before the waiting period, seventy-two hours, of this approval.
However, there are some exceptions to these statutory FOID checks:
Transfer of firearms from one member of a family to another, both nuclear and extended family.
Temporary transfer of a firearm from a licensed owner to another person within the home premises of the licensed owner. In this case, it is important that the transferee is considered skilled enough to handle a firearm.
Finally, even if you have an Illinois concealed carry permit, you must still undergo the required background check before purchasing a firearm.
Age Requirements For The Possession And Transfer Of Firearm In Illinois
The required age for dealing with CCW in Illinois is eighteen years old. But there are conditions to this.
In Illinois, if you are under twenty-one years old, you need consent in written form from your parent or guardian before dealing or possessing a firearm.
You must also submit an application to possess a firearm, and this must be approved and signed by a notary officer.
It is also important that the parents or guardians writing the consent have a FOID card of their own.
Application For FOID Card In Illinois
The FOID card in Illinois is a very important conceal carry requirement because you cannot obtain a CCW permit without it.
The application for a FOID card is done on an online portal. After this has been completed, the following must be provided:
A driver's license that was issued in the state of Illinois if you are a resident of the state. Nonresidents that want to apply for FOID must be employed as a security agent, be a law enforcer, or a member of the US Armed Forces. Documents to prove this will be required.
A recently taken passport photograph.
Other necessary fees.
After a period of thirty days, your FOID application will either be accepted or rejected. This will be uploaded to the FOID's website. The card is valid for a period of ten years.
Illinois CCW Permit Requirements
Before you apply for Illinois concealed carry permit, you need to meet the requirements stated by the concealed carry law of the state.
They include the following:
You must be a resident of Illinois. Nonresidents must be a law enforcement officer or member of the US armed forces.
You must complete the Illinois concealed carry permit application on the online portal.
You must be at least twenty-one years old, or eighteen years old with written consent from your parent or guardian.
You must not have been convicted of a felony under the state or federal laws of the nation.
You must not be declared mentally impaired.
You must not have been admitted for treatment in any mental facility in the last five years prior to your application.
You must be intellectually and developmentally fit.
You must not be an addict to narcotics or any substance that is controlled by the state or federal laws.
You must not have a court order of protection in your name
You must not have been previously convicted or violence, assault, violation of a protection order, or any other firearm-related charge within the last 5 years.
You must not have been convicted of any domestic crime or other similar offenses.
You must be lawfully present in the United States of America.
You must not fail any medical test for a drug that was not prescribed to you by a doctor in the past year.
You must not be in the united states under a student or a non-immigrant visa.
You must be a legal citizen of the country.
You must have never previously withdrawn your citizenship.
You must not have been removed from the military due to dishonorable behaviors.
You must not have a search warrant in your name or be a fugitive.
You must meet all the requirements listed to possess a firearm by the state of Illinois and the federal government.
You must not have been convicted of misdemeanors involving threats or violence in the past five years.
You must not have violated any Driving Under Influence (DUI) law in the state within the past five years.
How To Apply For Illinois CCW Permit
For Illinois concealed carry permit application there are four stages you have to undergo. They include the following:
Complete The Training
The first step of undergoing an Illinois CCW application is completing the training requirements. This must be overseen by an approved ISP instructor.
Illinois concealed carry law states that the training must be a duration of sixteen years. This could also be an Illinois concealed carry online class.
Provide Your Details
Visit the state police website to obtain your ID and password.
You will be required to provide the following documents for the CCW application:
Illinois state driver's silence or any other documents that identify you as a resident of the state.
Your state police ID and password.
A certificate to prove that you have completed the required training.
A FOID card. You can also state if your FOID application is still in process.
A photograph picture that was taken within the past thirty days.
A document that shows your residency in the last ten years.
Your fingerprint is not needed for Illinois concealed carry permit application. But it helps speed up the application review process to be completed within Ninety days.
If you are in urgent need of the CCW permit, you should provide your fingerprint. For fingerprint application a Transaction Control Number (TNC) will be provided.
You should keep the TNC because it will be needed for further completion of the CCW permit.
Waiting Period
A waiting period of one hundred and twenty days is required for the process to be complete without a fingerprint. Ninety days with a fingerprint.
Approval Mail
You will be notified by mail if your CCW permit has been approved or not
Illinois CCW Training Requirements
The state-approved Illinois concealed carry class training must comprise of the following:
Safety in handling types of firearms
Process of marksmanship
How to clean, load, and unload a firearm
A course of all state and federal laws pertaining to dealing, storing, transporting and handling a firearm
A live-fire session with at least thirty rounds shooting. This consists of ten rounds from five yards, another ten rounds from seven yards, and the final ten rounds from ten yards.
A certificate from an approved instructor to show that you have passed the CCW training.
Members of the armed forces who have previously passed a firearm training approved by the federal government or the government of any other state in the country may undergo training of eight hours instead of the required sixteen hours.
For the renewal of Illinois CCW permits, a training period of three hours is required.
Illinois Concealed Carry FAQ
Here are the most frequently asked questions about concealed carry Illinois.
How Long Is An Illinois CCW Permit Valid For?
Illinois CCW permit is valid for a period of five years.
Can I Apply For A Non-resident Permit In Illinois?
Illinois will only grant a CCW permit to residents from Arkansas, Idaho, Mississippi, Texas, and Virginia.
The reason is that these states have CCW laws that are related to that of Illinois.
How Can I Go About Name And Address Change For CCW Permits?
For a change of name and address, you need to notify the appropriate department within a period of thirty days after changing your residence.
Additional Resources
Illinois Gun Laws
Illinois Open Carry Laws
Illinois Gun Permit Laws