Illinois is unique because it requires residents to posses a valid Firearm Owners Identification (FOID) card to carry ammunition or firearms. There's a period of 72 hours where you must wait to carry a handgun. Concealed carry permits are typically issued by the state police to individuals who are at least 21 and have passed a 16 hour training course. Non-resident permits are available for residents of four states, MS,AR, TX, VA and non-residents are also exempt from having a FOID card if they possess a valid CCW permit from their home state.
Illinois Gun Laws Quick Facts
| | |
| --- | --- |
| Open Carry Permitted? | No |
| Carry In Vehicle? | Yes |
| Carry In State Park? | Yes |
| Carry In Restaurants? | Yes |
| Constitutional Carry? | No |
| No Weapon Sign Enforced? | Yes |
| Must Notify Officer? | No |
Illinois CCW Reciprocity List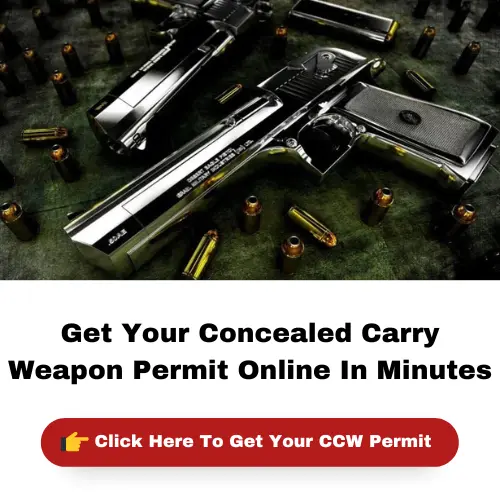 States Honoring CCW
Alabama
Alaska
Arizona
Arkansas
Idaho
Indiana
Iowa
Kansas
Kentucky
Michigan
Minnesota
Mississippi
Missouri
Montana
Nebraska
Nevada
North Carolina
Ohio
Oklahoma
South Dakota
Tennessee
Texas
Utah
Vermont
Virginia
Wisconsin
States NOT Honoring CCW
California
Colorado
Connecticut
Delaware
District of Columbia
Florida
Georgia
Hawaii
Louisiana
Maine
Maryland
Massachusetts
New Hampshire
New Jersey
New Mexico
New York
North Dakota
Oregon
Pennsylvania
Rhode Island
South Carolina
Washington
West Virginia
Wyoming
Honors These States CCW Permits
How Reciprocity Works In Illinois
Illinois will not honor any other states concealed carry permits. They will however issue non-resident concealed carry licenses to residents of four states;
Arkansas
Mississippi
Texas
Virginia
These states have been assessed as having substantially similar firearms laws to Illinois laws. This list is being continually updated as more states are identified as having similar CCW laws to Illinois.
Reciprocity Agreements In Illinois
Illinois: Where Is CCW Allowed?
Places Allowed
State parks – see details
State and national forests
Vehicle – see details
All areas of the state not listed as Off-Limits
Places Not Allowed
Public or private elementary or secondary school.
Pre-school or child care facility
Any building, parking area, or portion of a building under the control of an officer of the executive or legislative branch of government
Circuit court, appellate court, or the Supreme Court
Any building or portion of a building under the control of a unit of local government
Adult or juvenile detention or correctional institution, prison, or jail
Public or private hospital or hospital affiliate, mental health facility, or nursing home
Public bus, train, or form of transportation paid for with public funds
Establishment that serves alcohol on its premises, if more than 50% of the establishment's gross receipts within the prior 3 months is from the sale of alcohol
Any public gathering or special event conducted on property open to the public
Any building or real property that has been issued a Special Event Retailer's license
Public playground
Public park, athletic area, or athletic facility
Property under the control of the Cook County Forest Preserve District
Any building, classroom, laboratory, medical clinic, hospital, artistic venue, athletic venue, entertainment venue, officially recognized university-related organization property, including parking areas, sidewalks, and common areas under the control of a public or private community college, or university
Gaming facility licensed under the Riverboat Gambling Act or the Illinois Horse Racing Act of 1975, including an inter-track wagering location
Any stadium, arena, or the real property or parking area under the control of a stadium, arena, or any collegiate or professional sporting event
Public library
Airport
Amusement park
Zoo or museum
Any street, driveway, parking area, property, building, or facility, owned, leased, controlled, or used by a nuclear energy, storage, weapons, or development site or facility regulated by the federal Nuclear Regulatory Commission
Any place where the carrying of firearms is prohibited by Federal Law.
Illinois: Conceal Carry Laws
Open Carry
No
Open carrying a handgun on your person or in a vehicle with or without a license in Illinois is illegal. Even if you have a concealed permit you still cannot legally open carry. The handgun must be concealed from view of the public.
Carry In Vehicle
Yes
It is illegal to carry a loaded handgun in a vehicle without a permit/license. The statute does not apply however to the transportation of firearms that are: 1) broken down in a non-functioning state; 2) not immediately accessible; or 3) unloaded and enclosed in a case, firearm carrying box, shipping box, or other container by a person with a currently valid Firearm Owner's Identification card. A person who is issued a valid concealed carry license is permitted to keep or carry a loaded or unloaded concealed handgun on or about his or her person within a vehicle. There is another separate law for Non-Residents A non-resident may transport a loaded concealed handgun in a vehicle if they have a valid CCW permit in their home state. They cannot under any circumstances remove the firearm from the vehicle. If they need to exit the vehicle they must lock it or place the firearm in a locked container. The Law 430 ILCS 66/40
Carry In State Parks
Yes
It is legal to carry in the following areas; State Parks: YES State/National Forests: YES (not in posted buildings) State Wildlife Management Areas: YES (not in posted buildings) State Refuge or Nature Preserves: NO Road Side Rest Areas: NO
Carry In Restaurants
Yes
In Restaurants That Serve Alcohol Yes, unless the bar is posted. If a bar gets more than 50% of their income from selling alcohol then you cannot carry a firearm there.
Constitutional Carry
No
No Weapon Signs Enforced
Yes
Illinois gun laws give the force of law to "No Weapons" signs. There are legal penalties for entering a private property or business that has posted these signs. The Law 430 ILCS 66/70 430 ILCS 66 Section 65(d) 1231.150 Administrative Rules
Must Notify Officer
No
There is nothing in Illinois gun laws that state you must inform a law enforcement officer you have a firearm when approached on official business. You are legally required to carry the permit/license at all times during which the permittee is in actual possession of a concealed handgun. If an officer requests to see the license then you must hand it over. The Law 430 ILCS 66/10
Additional Resources
Illinois Concealed Carry Laws
Illinois Open Carry Laws
Illinois Gun Permit Laws