Size: 35,835 Acres
Year Established: 1928
Annual Visitors: 2.10 Million
Firearms Information in Bryce Canyon National Park
People who are allowed to lawfully own firearms in accordance with applicable federal, state, and local regulations are now permitted to legally possess firearms in this park according to a new federal law that went into effect on February 22, 2010.
Before visiting this park, visitors are responsible for familiarizing themselves with all applicable state, local, and federal weapons regulations and ensuring that they are in compliance with those laws. Within the boundaries of this national park, the discharge of firearms is prohibited, and the employment of firearms as a method for protecting wildlife is not a proper defense strategy.
Additionally, under federal law, guns cannot be carried into the facilities of this park (think buildings).
If you would like to learn more about the Gun Laws in Utah, you can click here.
Hunting in Bryce Canyon National Park
Hunting is prohibited within the boundaries of Bryce Canyon National Park. However, hunters can discover a fantastic location just a short distance away from the Bryce Canyon area that is perfect for shooting a wide variety of various species of wildlife. An incredible adventure awaits hunters who venture out onto the Paunsaugunt Plateau, which is located not too far away.
To learn more about Hunting Laws in Utah, you can click here.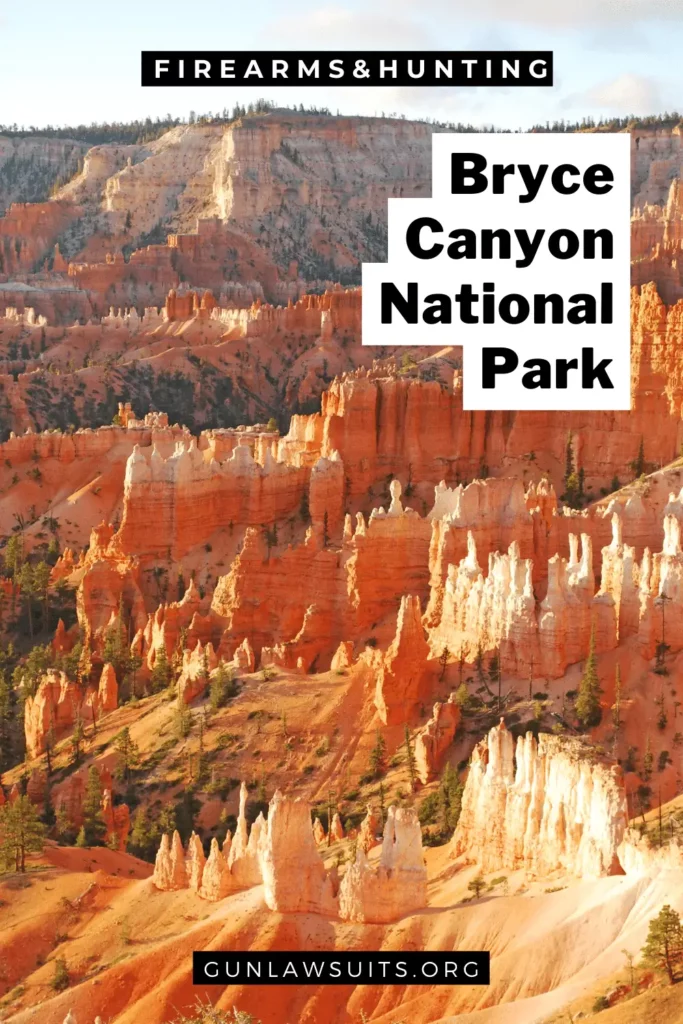 Additional Information About Bryce Canyon National Park
Bryce Canyon is home to more bizarre rock formations than any other location on the planet.
The Paiutes refer to the clusters of red, yellow, and orange hoodoos as "red rocks standing like men." The locals believe that the coyote trickster deity turned the Legend People, who built these 150-foot sandstone towers, into stone as a consequence for their bad behavior.
There are three distinct climate zones in the park, and hikers can go from yucca and cactus-filled desert to alpine meadows and forests of aspens, spruces, and white firs.
Hikers in Bryce may get a glimpse of the magnificent California condor, whose wingspan can reach 10 feet. There were only twenty-two left in the wild in 1982. As a result of breeding efforts, there are now around 500.
Utah Prairie Dog Day and other geology and astronomy celebrations are celebrated there annually.
Best Time to Visit Bryce Canyon National Park
The best time to visit Bryce Canyon National Park is between the months of April to October.
Visitor Fees
$20.00 per person/cyclist valid for 7 days
$35.00 per vehicle valid for 7 days
$30.00 per motorcycle valid for 7 days
$70.00 for the Bryce Canyon National Park Annual Pass
Lifetime Park Passes
$80.00 for the Interagency Senior (Age 62+)
Free for Interagency Access (Permanently Disabled)
---
Interesting in visiting multiple National Parks this year?
Consider the America The Beautiful Annual Park Pass.
This annual park pass to gets you and some friends into all U.S. National Parks for $80.
They also offer Senior, Military, and other discounts.
---
Visitor Centers
Bryce Canyon Visitor Center
Address
UT-63,
Bryce Canyon City, UT 84764
Phone Number
(928) 638-7888
Hours of Operation
Daily 8:00 AM–6:00 PM
Be sure to check for seasonal closures.