Hawaii operates as a "May Issue" state which means the county will issue the concealed carry permit. However, it's very rare for a resident to obtain a permit. In 2000, mandatory county reporting began, and since then only 4 permits have been given. 2 were issued in Maui in 2001 and two on Kauai, 1 to a local judge and another in 2013 to an active military member for 12 days. There is a case being tried currently in federal court to try and force Hawaii to begin issuing permits, however this will take years to resolve.
Hawaii Gun Laws Quick Facts
| | |
| --- | --- |
| Open Carry Permitted? | Yes – Technically you're allowed to open carry in Hawaii if you have the license to carry. However, good luck getting that. |
| Carry In Vehicle? | Yes – Again, technically you're allowed to carry your firearm in your vehicle if you have the appropriate license. However, only a handful of people have been able to get the appropriate permits. Hawaii tries its best to limit people from carrying a firearm (loaded or unloaded) on its roads. |
| Carry In State Park? | No – Hawaii does not allow for weapons in state or national parks. |
| Carry In Restaurants? | Yes – We weren't able to find any legislation preventing an individual from concealed or openly carrying a firearm into a restaurant so long as they have the appropriate permit. |
| Constitutional Carry? | No – Hawaii does not recognize constitutional carry. |
| No Weapon Sign Enforced? | Yes – No weapons signs have strict enforcement on the islands of Hawaii. |
| Must Notify Officer? | Yes – Hawaii is a "duty to inform" state which requires individuals to reveal if you're carrying a firearm on you. |
Hawaii CCW Reciprocity List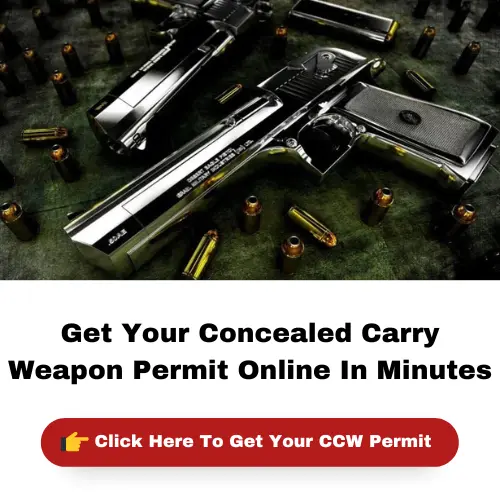 States Honoring CCW
Alabama
Alaska
Arizona
Arkansas
Idaho
Indiana
Iowa
Kansas
Kentucky
Mississippi
Missouri
Nebraska
North Carolina
Ohio
Oklahoma
South Dakota
Tennessee
Texas
Utah
Vermont
Virginia
Wisconsin
States NOT Honoring CCW
California
Connecticut
District of Columbia
Hawaii
Maryland
Massachusetts
New Jersey
New York
Oregon
Rhode Island
Washington
Honors These States CCW Permits
How Reciprocity Works In Hawaii
Reciprocity Agreements In Hawaii
Hawaii: Where Is CCW Allowed?
Places Allowed
Restaurants
All areas of the state not listed as Off-Limits
Places Not Allowed
Public school grounds which are composed of K-12 grades
School bus used for K-12 grades
Demonstrations at public places
Building of a highway patrol station, sheriff, or police
Inside any area hosting a professional athletic event not related to firearms which is sponsored by a private or public elementary or secondary school or any private or public institution of post secondary education.
Inside a facility which provides inpatient or custodial care of those with psychiatric, mental, or emotional disorders.
Inside a courthouse or courthouse annex
Prison, jail, halfway house, community corrections facility, or other detention facility for those who have been charged with or convicted of a criminal or juvenile offense.
Building in which a District Attorney's office is located
Building in which a county commission or city council is currently having a meeting
Any place where the carrying of firearms is prohibited by Federal Law.
Hawaii: Conceal Carry Laws
Open Carry
Yes
Hawaii is technically an open carry state. They make mention in their code that if a resident has the appropriate Hawaii concealed carry license then they're allowed to openly carry within the islands. This was mainly written for law enforcement from what we can tell as Hawaii doesn't actually allow residents to receive permits for firearms.
Carry In Vehicle
Yes
Just like open carrying above, Hawaii does allow for individuals to carry their firearms (concealed or openly) within their vehicle if they have the appropriate permits. However, it should be noted that the legislators have made it known they do not want firearms on the road.
Carry In State Parks
No
Hawaii is very strict on this. They do not allow firearms into their state parks, national parks, or wildlife areas.
Carry In Restaurants
Yes
From our research, it appears you can carry a firearm into restaurants or establishments that serve alcohol so long as you have the appropriate permits. Once again, this seems to be directed to law enforcement only.
Constitutional Carry
No
Hawaii is one of the strictest states when it comes to firearm laws. No, they don't recognize constitutional carry.
No Weapon Signs Enforced
Yes
Hawaii recognizes no weapon signs as having the force of law. It's a criminal trespass of the "second degree" misdemeanor by violating this law.
Must Notify Officer
Yes
Hawaii is recognized as a "duty to inform" state which requires individuals to reveal they're carrying a firearm when interacting with a law enforcement officer.
Additional Resources
Hawaii Concealed Carry Laws
Hawaii Open Carry Laws
Hawaii Gun Permit Laws